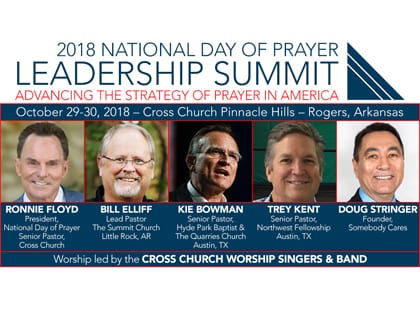 Northwest Arkansas will be hosting the 2018 National Day of Prayer National Leadership Summit on October 29–30.
National Day of Prayer National Leadership Summit
October 29–30, 2018
Cross Church Pinnacle Hills
Rogers, Arkansas
If you have attended in years past, you will find this year's summit schedule different in design. Lisa Crump and I have worked diligently in planning this summit to be extremely helpful in engaging and equipping attendees to advance the strategy of prayer for America. This obviously begins at the local level, and this is what we hope to equip you to do even more effectively … mobilize unified public prayer for America.
Here are a few things you will be equipped to do even more effectively:
• Brian Dunaway, Communications Director of Cross Church, will equip us with powerful strategies for social media and website engagement.
• David Franklin, our National Day of Prayer state coordinator for Georgia, will be assisting us in engaging schools and churches like never before.
• Sheila Kimball, our State Coordinator for Connecticut, will be giving testimony to how they are seeing National Day of Prayer observances in every city and county in their state.
• Sofia Medina-Hickle, Florida's National Day of Prayer State Coordinator, will share the exciting strategies and movements around Florida.
• Charles W. Herbster and Dr. Douglas Firebaugh of the Corporate Team of Conklin Company will be equipping us on recruiting, training, and retaining teams that win.
Our goal for this day and a half summit is for you to leave excited and encouraged, and more than equipped to lead your area in the most successful National Day of Prayer Observance ever on Thursday, May 2, 2019.
For more information and to register »
Find more events for church leaders »