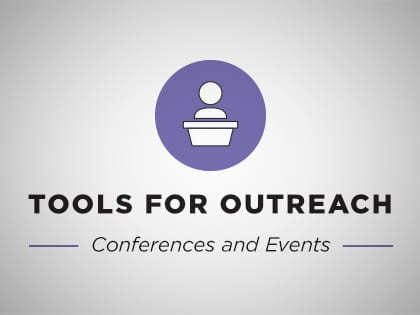 There's something powerful about gathering with hundreds or thousands of fellow church leaders at a Christian conference.
There's something powerful about gathering with hundreds or thousands of fellow church leaders at Christian conferences to be trained, inspired and equipped for maximizing the impact of the gospel, whether reimagining evangelism in our culture or exploring the latest trends in church planting, family ministry or leadership. The leaders of Thrive Conference ask, "Are you ready to be recharged in your ministry and leadership?" Check out these top-tier conferences.
---
The Outreach Summit: Pastors from this year's Outreach 100 Fastest-Growing Churches will share candidly what they've learned that works, as well as some of the challenges and misfires along the way while moving toward a healthy church. OutreachSummit.org
---
The Amplify Conference: A three-day event where church leaders reimagine an evangelism strategy for our day that is winsome, soulful and creatively and deeply grounded in Scripture. AmplifyConference.tv
Catalyst Conference: High-profile leadership conferences designed to raise up and empower the next generation of leaders. Hosted in multiple locations across the country. CatalystLeader.com
Exponential Conference: The largest gathering of church-planting leaders in the country, featuring 175-plus speakers, 125-plus workshops, 9-plus tracks and thousands of church planters. Exponential.org
Global Leadership Summit: Two days of world-class leadership training, broadcast live in 600 locations nationwide. WillowCreek.com/Events
Harvest America: Designed for Christians to invite others to hear the life-changing gospel in a nonthreatening environment, held at the invitation of unified local churches wanting to influence their communities. Harvest.org
The Orange Conference: A gathering of preschool, children's, student and NextGen ministry leaders from around the world to get aligned, hear innovative ideas, network with their tribe and have fun. TheOrangeConference.com
Organic Outreach Conference: A gathering of church leaders to collaborate on practical ways to shape the outreach culture of the church. OrganicOutreachConference.com
Q Conference: An event for church and industry leaders to thoughtfully navigate today's culture. Education by thought-leaders and stories from change-makers will inspire a hopeful way forward. Conference.QIdeas.org
Thrive Conference: A series of events designed to equip and inspire church leaders to make the local church thrive. ThriveConference.org
Find more events for church leaders »
More Tools for Outreach:
APPS AND SOFTWARE
ARCHITECTURE AND BUILDING
FINANCIAL SERVICES
MINISTRY CONSULTING
RESOURCES FROM OUTREACH INC.