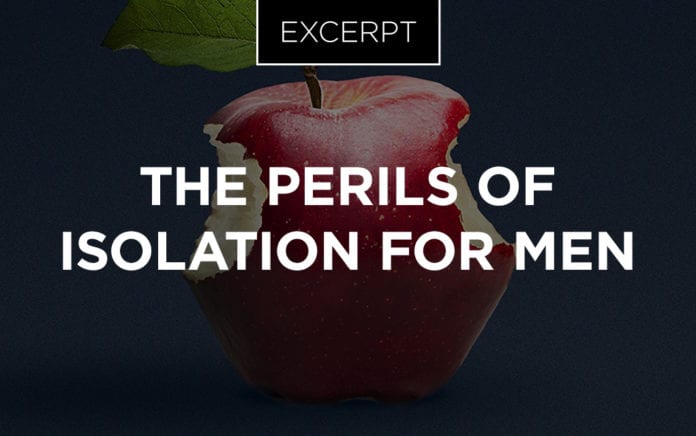 Men need not just casual friendships, but deep friendships with other men who are not afraid to be honest with them.
Excerpted From
Lies Men Believe: And the Truth That Sets Them Free
By Robert Wolgemuth
Early in my business career, after having experienced a year at the helm of a prosperous company, a friend paid me a visit. He had been alerted to a problem in my business and came calling. His opening line was this: "There's something you need to know." Even though I was sitting in my office chair, I pretended to fasten my seatbelt. Good thing I did. The news was brutal … and true. What he had to say about my business, my colleagues—and me—was hard to take. But it was exactly what I needed to hear. This man proved himself to be a true friend, and that conversation was a defining moment for me. The book of Proverbs, the book of wisdom, tells us about a man without friends.
"Whoever isolates himself seeks his own desire; he breaks out against all sound judgment." (18:1)
At the end of this same chapter in Proverbs, separating casual acquaintances from close friends, Solomon writes:
"A man of many companions may come to ruin, but there is a friend who sticks closer than a brother." (18:24)
How good is this? The first verse tells us of the peril of isolation. The last teaches us something about how to spot a real friend. Together these give us a clearer picture of why we need friends, what to look for in a friend and how to be a good friend to other men. No doubt from personal experience—and how else do we learn such important lessons? Solomon is encouraging us not to succumb to the temptation of drawing back and living alone. And he's also suggesting that the solution isn't just hanging out in a sports bar with a whole bunch of guys—which can still be a good idea—but making sure we have a close buddy, a confidant … a friend who sticks closer than a brother.
So why are we sometimes tempted to choose isolation? To live detached from authentic community? Is it pride, thinking we can manage on our own? Is it a fear of accountability? A friend is someone who is willing to tell us the truth, even when it hurts. Another proverb explains this with a powerful word picture:
"Faithful are the wounds of a friend; profuse are the kisses of an enemy." (27:6)
Solomon turns his phrases brilliantly. We don't typically think of friends wounding us and enemies kissing us. We hate wounds and love kisses, hate enemies and love friends. But in truth, enemies can seek our favor through flattery. Friends are those who are willing to risk our friendship, temporarily hurting us by speaking truth for our well-being.
Imagine a doctor who is always smiling. Imagine every report he gives us is positive. Imagine that he encourages our unhealthy habits. When we are sick, he prescribes ice cream. When we are afraid heading into surgery he tells us that it's fine if we don't want to go ahead with the procedure. That's a crony, not a friend; an enabler, not a trustworthy physician. The doctor who truly cares for us tells us about our high blood pressure. He warns us about our bad habits. And he even sticks us with needles, and if need be, cuts us open that we might be made well.
So it is with a true friend. His wounds heal. A true friend is like a brother, someone who loves us enough to speak with surgical precision and truth. A man from whom we are even willing to hear his concerns for us. The proverb is not simply saying, "Surround yourself with people who are down on you. It will do you good." Rather, it is telling us that someone who loves us speaks hard truths and offers wisdom. In response, we listen and thank our friend for loving us so well. Men need not just casual buddies but faithful friends—men who stick closer than a brother … a good brother. Male friends have a better understanding of the weaknesses of other men, of our patterns of rationalization. And they can speak the kinds of words that will encourage us the most. Men need male friends who come equipped with both courage and wisdom, and a shared commitment to obediently follow in the path of our greatest friend, Jesus.
Speaking of our friend, the Lord Jesus, the author of Hebrews reminds us, "For we do not have a high priest who is unable to sympathize with our weaknesses, but one who in every respect has been tempted as we are, yet without sin" (Heb. 4:15).
Jesus is our elder brother, the firstborn of the family of God. He always speaks truth to us through his Word. And his end for us, if we are his, is that we would be happy. Blessed.
He is God in the flesh. But he is also a man, just like us, except without sin. And he calls us to not only have friends like brothers, but to be friends like brothers. Life is tough. Living with integrity and purity are endless battles. And as we both know so well, it's a war out there.
You need friends. I need friends—friends who not only speak truth but friends who challenge us with the integrity and example of their own lives. We need to love each other well, well enough to dare to hear and speak truth.
Recently Nancy and I had a "triple date" with my two daughters and their husbands (I love these men who call me dad). What a sweet time it was. As we were updating each other on our lives, my sons-in-law shared how they have regular contact with male friends for Bible study, prayer and accountability. At one point, one of them leaned in and said, "Dad, who are the men who are speaking into your life?"
Bam!
Truth be known, when I married Nancy and moved to Michigan, I left my accountability brothers behind. These few men stood by my side when [my late wife] Bobbie was diagnosed and when she stepped into heaven. One of them actually called himself "Robert's wingman."
But the admonition of my son, who loves me enough to speak honestly, got my attention.
Since that little visit to the "honest planet," I've begun meeting with a new friend—a Christian brother—on a regular basis. How good this feels. Again.
Thank you, to my sons. How blessed I am to have friends like them.
How about you? If I asked you the same question about having a trusted friend who shares your life with you, what would you say?
Order this book from Amazon.com »
Excerpted from Lies Men Believe and the Truth that Sets Them Free by Robert Wolgemuth (©2018). Published by Moody Publishers. Used by permission.