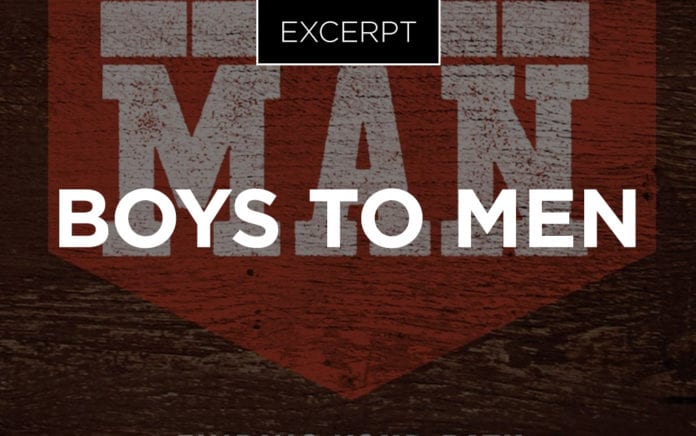 The things that separate boys from men aren't related to age, but values.
Excerpted From
The Five Marks of a Man
By Brian Tome
There are fifteen-year-old men, and there are forty-five-year-old boys. You can be an adult boy, and you can be a teenage man.
I have come to believe that the transition from boyhood to manhood is not marked by age; it's marked by things that are much more substantial, such as your mindset and your actions, assuming responsibility for your place in the world and stepping into a new reality—one defined by strength, purpose and a code of honor.
"Be watchful, stand firm in the faith, act like men, be strong. Let all that you do be done in love." —1 Corinthians 16:13–14
1. Boys Are Shortsighted. Men Play the Long Game.
Boys live only for today. They wait for inspiration to strike or for someone to hand them their big break or for the perfect woman to walk through the door. "Where there is no vision, the people perish" (Prov. 29:18).
When you begin to understand and experience the blessing that comes from stepping into manhood, it changes you. And God often gives you a vision that seems far beyond your present capability. Men dream of something big. Big dreams, big visions, and grand ambitions are sprinkled throughout the Bible. In fact, the giver of dreams says we don't dream big enough.
Now to him who is able to do immeasurably more than all we ask or imagine, according to his power that is at work within us. (Eph. 3:20)
Don't be afraid to dream big. What does that look like? Immeasurably more than we can ask or imagine. Keep going after big, God-sized visions and humbly walk with our God (Mic. 6:8).
2. Boys Live for Today. Men Think Long Term.
One of the ways to go from being a boy to being a man is to seize today and make your life extraordinary. To boys, you only live once means doing whatever is fun today. Men, however, seize the day to work toward a vision.
Jesus is the most impactful because he had and worked a vision. When he died, he died alone in the most public and humiliating way possible, next to common thieves. But Jesus wasn't playing for the immediate. He had a long-term vision. He was doing what he had to do to connect you and me to God, and he knew he had to go through pain and loss in the short-term, so we could have something in the long term.
You must no longer live as the Gentiles do, in the futility of their thinking. They are darkened in their understanding and separated from the life of God because of the ignorance that is in them due to the hardening of their hearts. (Eph. 4:17–18)
Every day we work toward a vision by taking off our boyhood ways and putting on our manhood ways by asking, "Am I going to be a man today or am I going to be a boy?"
3. Boys Drift. Men Focus.
Next, we have to focus. Did you catch that while you were multitasking? I said, "Focus."
We drift from one micro-moment to the next. At the end of the day, when all the micro-moments add up to twenty-four hours, we wonder how we got there. We simply said yes to whatever happened to come along. Classic boy stuff.
A man, though? A man with a vision knows the secret ingredient is focus. Focus is the bedrock of vision. Without it, vision is just a good idea. The truth: ideas are only about 5 percent of the formula. The most important part isn't having the right idea; it's working the idea. Vision becomes reality through focus. If we want to be men with vision, we must be men with focus.
There was a time Jesus said no to a Gentile woman who begged him for help. He said to her, "I was sent only to the lost sheep of Israel" (Matt. 15:24). But she didn't give up. She pushed back and impressed him with her focus for her vision. He granted her request.
Our culture would rather we remain distracted boys. We want to be different.
4. Boys Look for Open Doors. Men Break Through Barriers.
Resistance is the refusal to accept something or an attempt to prevent something. The world's not always a bowl of Graeter's Black Raspberry Chocolate Chip ice cream (google it, you're welcome). Isn't conflict, resistance, and pain actually God telling me to do something else? That's flat-out boy thinking. Boys look for the path of least resistance. They look for open doors and instant gratification on the other side.
Men break through barriers You don't see God opening doors for people and making things easy in the Bible. You see extreme resistance in the midst of years, decades, and even lifetimes of patience and labor: "for a wide door for effective work has opened to me, and there are many adversaries" (1 Cor. 16:9 ESV). Everything significant that will happen in your life will come through struggle and persistence. This is the paradigm for manliness we see in the Bible. Through our suffering God is building very good things in us, things that take us beyond the ordinary, things such as perseverance, character, and hope.
Keep going. You just may find that God meets you in the form of a breakthrough. Perseverance. Character. Hope.
It's time to set a new standard for what manhood should be or live up to the ancient standard that has been lost. No matter where you are in your life, no matter what you've done, you can choose today to be a man. You can embrace these five marks and begin a new path of strength and integrity. You can choose to give up your boyish ways and become all that God has wired you to be. It's time to man up.
Tell me more about this book »
Order this book from Amazon.com »
Excerpted from The Five Marks of a Man by Brian Tome. Baker Books, a division of Baker Publishing Group. Copyright 2018. Used by permission. BakerPublishingGroup.com