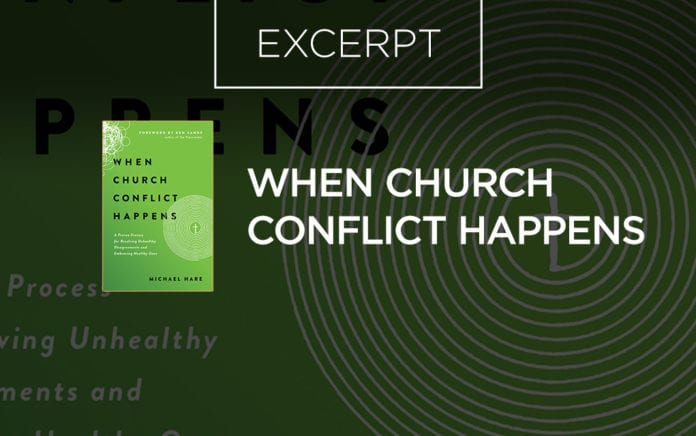 How can church leaders train their members in healthy conflict resolution?
Excerpted From
When Church Conflict Happens
By Michael Hare
Conflicts almost always surface first in the level of interpersonal conflict, which can have many causes. Regardless of the root cause of a conflict, helping people navigate the interpersonal dynamics of their own relationships is essential to bringing resolution to the main issue(s) and reconciling people to one another.
Sometimes interpersonal conflict represents a single issue and can be resolved with no further action required. "Personality conflicts" often fall into this category. These words are in quotation marks because the suggestion that a conflict is primarily a difference in personalities is usually an oversimplification. God created us in his image and gifted us in different ways.
Garry and Daniel have been working together for more than five years. Both have been effective in their respective roles. But their different ministry and communication styles have led to a pattern of recurring conflict that has kept their relationship strained and even combative at times. These two men are wired (gifted) differently. Garry scores high in the area of administration, and Daniel's strongest gift is mercy. Garry is a detail person who enjoys making lists and completing tasks daily, while Daniel is highly relational and would rather go with the flow and make midcourse adjustments as needed. Garry plans and executes with efficiency and organizational excellence. Daniel is warm and welcoming and has built an amazing network of relationships across the entire ministry. Their gifts have complemented each other, bringing a healthy balance to the church's ministries. But their inability to work well together is now causing division within their leadership team. If it continues, churchwide conflict is inevitable.
God created emotions. When he said in Genesis that all he created was good, we can be sure our emotions were designed to be a source of great blessing to us and to those around us. However, in our fallen state, our emotions are subject to the frailties of the flesh. A common assumption is that our emotions are just a part of who we are and therefore should be allowed their full expression. But just like everything else in our lives, our emotions must be submitted to the control of the Holy Spirit. We must each resist the temptation to let uncontrolled emotions drive our decision-making. If we fail to form new habits shaped by scriptural principles, our emotions can fuel an explosive fire that cause us to respond to disagreements and challenges in ways that lead only to regret. Paul reminds us in Galatians 5:24 that "those who belong to Christ Jesus have crucified the flesh with its passions and desires," and Solomon teaches, "A man without self-control is like a city broken into and left without walls" (Prov. 25:28).
So how can church leaders help themselves and their congregations become skilled in healthy communication and problem-solving?
Although we can come up with a workable model for resolving personal and systemic conflict, it is a mistake to think that mere mechanical methods and organizational processes are sufficient to bring about Christ-honoring solutions in the fullest sense. Proverbs 4:23 admonishes us to "above all else, guard your heart, for everything you do flows from it." Improving our skills in communication and conflict resolution are not simply academic exercises but part of our personal growth toward spiritual maturity. As Proverbs says, "A man without self-control is like a city broken into and left without walls" (25:28). For church leaders, this point is particularly relevant (1 Peter 5:1–3). Modeling emotional self-control, especially in times of disagreement and conflict, can make the difference between inspiring others toward godly behavior and contributing to a devastating loss of credibility and influence. Spiritual formation (character) is a lifelong process that manifests itself most clearly in times of trouble.
Most pastors strive to grow spiritually and to encourage spiritual growth in their congregations. But let's face it: The very nature of church life itself is to minister to people who are at very different points along the road in their spiritual journey. Even when churches have exceptional discipleship programs available, only a limited number of people take full advantage of all that is offered. One of the most severe testings for any of us is found in church conflict. The publication of so many books on this subject testifies to our individual and corporate failures in responding to conflict in a healthy way. Paul writes to the churches of Galatia, "Brothers and sisters, if someone is caught in a sin, you who live by the Spirit should restore that person gently. But watch yourselves, or you also may be tempted" (Gal. 6:1). Christians are called to patiently assist those who are struggling in all areas of life, including church conflict.
Tell me more about this book »
Order this book from Amazon.com »
Excerpted from When Church Conflict Happens by Michael Hare, Moody Publishers, April 2019.