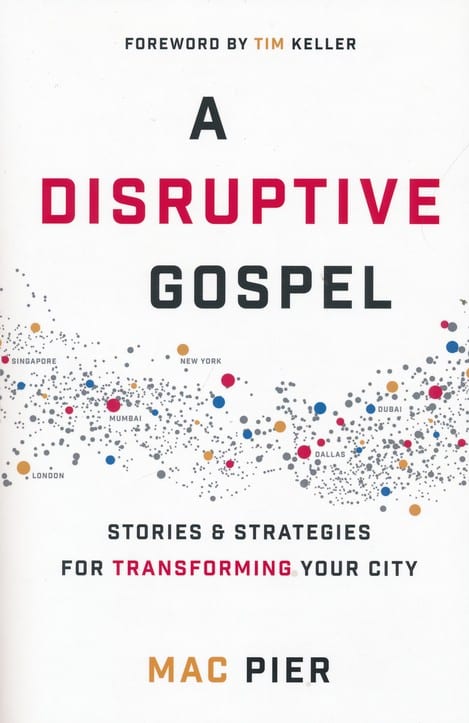 Stories and Strategies for Transforming Your City
A Disruptive Gospel
Stories and Strategies for Transforming Your City
(Baker Books, 2016)
WHO: Mac Pier, founder and CEO of The New York City Leadership Center.
HE SAYS: "Cities around the globe are growing exponentially. The gospel is permeating these new places just as exponentially. God has a grander purpose for our lives and in one way or another wants to connect us to his purpose in cities."
THE BIG IDEA: God is inviting us to join him in what he is doing in cities in every nation. He has a greater purpose for our lives and wants us to connect with his movement in reaching people.
THE PROGRESSION:
Mac Pier shares true stories of transformation in cities around the world. He also honestly discusses the greatest barriers to the gospel, shares how God worked reconciliation in major cities and shares how young people are making a difference for Jesus.
The book also dives into strategies that have worked and why. Each chapter includes a summary of the story's main message and concludes with a prayer.
"If we are to connect to God's work to reach the greatest number of people in our lifetimes, our work must be connected to cities."
Order this book from Amazon.com »
Read an excerpt from this book »
A 2018 Also Recommended Outreach Resource of the Year—Evangelism Category
"This book will be especially helpful to leaders who desire a greater alignment to vision and structure and the participation of people. You will enjoy the authors' holistic, process-driven approach that culminates in the reality that God is at work in the world today, and Christians need to recover a sense that it takes a team on a kingdom mission to move forward and be the force for good that God intends."
Evaluated by Ed Stetzer, an Outreach magazine contributing editor, who holds the Billy Graham distinguished chair of church, mission and evangelism at Wheaton College and the Wheaton Grad School, where he also directs the Billy Graham Center.