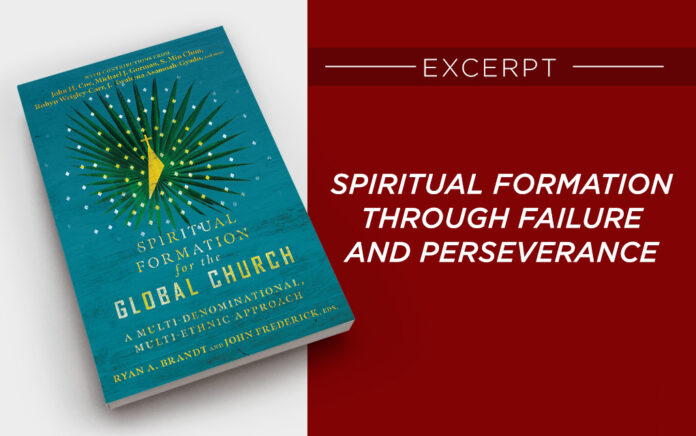 Only perseverance based on our trust in the faithfulness of God can bring us to full completion in Christ.
Excerpted From
Spiritual Formation for the Global Church
Edited by Ryan A. Brant and John Frederick
Failure is an inevitable component of spiritual formation. Although we hope to grow up smoothly and quickly, we actually grow up while falling down and getting up continually. Therefore, perseverance is an essential element for our spiritual formation. As God promised, we will grow up into the "unity of the faith and of the knowledge of the Son of God, to maturity, to the measure of the full stature of Christ" (Eph. 4:13). This promise will be achieved and is even guaranteed (cf. Eph. 1:11–14), but we cannot persevere to the last moment solely by means of our own enduring efforts. Only perseverance based on our trust in the faithfulness of God can bring us to full completion in Christ. The faithfulness of God on our behalf empowers us to faithfully persevere so that even our failures become providential instruments of our spiritual formation.
The story of Peter's failure dealt with in this article is Peter's falling into the water on the stormy sea (Matt. 14:22–33). Through this story is familiar to many Christians, I want to think about the question, Why did God allow Peter to experience this kind of failure? 
We cannot avoid winds, storms, and waves in our lives. Therefore, we may prefer to empathize with the story of Peter who faltered while attempting to walk on the stormy water. We hope to walk on the stormy water in a dignified manner, full of faith as Peter did (for a while). However, just as Peter sank into the water due to his fear and fragile faith, we also become terrified in our own daunting situations. Overwhelmed by fear, our faith can so often cave in when worries prevail and problems persist. Thankfully, however, the salvation that Jesus brought was not absent or late in bringing rescue and redemption to Peter. Indeed, the mighty arm of the Lord is not absent or late when he sovereignly intervenes in our lives, even if we sometimes feel like his saving actions are too slow or too late in arriving.
Through this story, I want to draw three theological principles that are pertinent to our own understanding and approach to faithful perseverance in the midst of momentary failures.
Jesus knew the disciples' struggles. Jesus saw the disciples straining at the oars because the wind was against them, and he went out to them. The disciples might have thought that they were fighting against the wind and waves by themselves. They probably thought that Jesus was not aware of their struggles because he was not there with them. If Jesus had been in the boat, even if he were asleep, they would have been able to wake up him (cf. Matt. 8:23–27; Mark 4:35–41; Luke 8:22–25). This time, however, they were on water, and he was on land. Mark's Gospel highlights an interesting expression: "When evening came, the boat was out on the sea, and he was alone on the land. When he saw that they were straining at the oars against an adverse wind, he came towards them early in the morning, walking on the sea" (Mark 6:47–48 emphasis added). Jesus saw them. He knew the disciples' struggles. And he came to the disciples.
Sometimes, like the disciples, we too act and think as if no one—including God—is aware of our struggles. Yet the truth is that even if we do not confess our problems to him, God is intimately aware of our struggles, our failures, and our problems to the deepest depth. Even if we fight against a monster that lives only in our mind and do not tell it to anyone, God knows our battle. God knows us—each of us. In any situation and in any circumstance, we should remember and rest assured that God knows this situation, and he is ready to jump into it. God is the Lord of all creation, and thus he is Lord over our every situation.
Jesus approached his disciples amid their struggle. Let us not miss another key point. Jesus saw the disciples straining at the oars due to the wind blowing against them, jumped into the stormy sea, and walked on the rough waves to approach his disciples and save them. He does the same thing for us. Jesus does not merely know about our struggles, but he jumps into our struggling situations and approaches us to save us. This is very similar to his incarnation. Jesus jumped into our world. He put himself in the midst of our situation.
Hebrews 4:15–16 says, "For we do not have a high priest who is unable to sympathize with our weaknesses, but we have one who in every respect has been tested as we are, yet without sin. Let us therefore approach the throne of grace with boldness, so that we may receive mercy and find grace to help in time of need." His incarnation, his earthly life, and his empathy with our weakness gives us confidence to approach him and to ask for his mercy and help. Jesus did not merely command his terrified and exhausted disciples from a comfortable distance. Rather, by walking on the stormy sea (into the same situation as the disciples), Jesus approached his disciples. And standing in front of his disciples, in the middle of stormy sea, still under the rough weather, Jesus said, "Take courage! It is I. Do not be afraid." He says the same words to us in the midst of our struggles.
Jesus did not stop the wind immediately. Of course, Jesus could have made the wind and waves calm even before he walked on the water. If he had done so, Jesus could have more easily approached the disciples. Even for the sake of the weary disciples, who worked hard with Jesus all day long and struggled against the wind on the water for at least six hours, Jesus could have calmed the wind earlier. If so, the disciples could have had more immediate relief from their struggle. However, he did not. For the sake of Peter, who bravely tried to walk on the water (even voluntarily!), Jesus could have calmed the wind. If so, Peter might have succeeded in walking on the water, and that experience would have been one of his proudest memories. It would have been good evidence that Peter was a fit, faithful, and qualified leader for the early church. However, Jesus did not calm the winds at that time.
In fact, he delayed the calming of the wind. Peter tried to walk on the water, sank, and was saved by Jesus. The Lord then said to him, "You of little faith, why did you doubt?" (Matt. 14:31). And then, "When they got into the boat, the wind ceased" (Matt. 14:32). In contrast to Jesus' delay, the story shows other times that Jesus acted immediately: immediately Jesus made the disciples get into the boat (Matt. 14:22; Mark 6:45); immediately Jesus said to the terrified disciples, "Take heart, it is I; do not be afraid" (Matt. 14:27; Mark 6:50); immediately Jesus reached out Peter's hand and saved him (Matt. 14:31). Yet if Jesus had immediately calmed the wind—or even calmed it in the middle of Peter's walking on the water (before he fell into the water)—Peter might have succeeded in walking on the water, but he would not have learned one of the most unforgettable lessons of his life. Jesus did not stop the wind until after Peter had failed and learned from his failure. Peter's failure is a blessing because it took place in the Lord's time and under the Lord's wisdom and providence. And because of this, Peter's failure led to more a resilient, spiritually formed faithfulness.
Peter voluntarily tried to walk on the water: "Lord, if it is you, command me to come to you on the water" (Matt. 14:28). He showed faith that exceeded the faith of any of the other disciples. He even succeeded—for a while. He could have been complimented for his effort, yet he heard, "You of little faith, why did you doubt?" (Matt. 14:31). This comment might at first glance appear to be harsh. However, this experience and Jesus' comment engraved the power of the providential faithfulness of the Lord in Peter's mind rather than the failure of his own attempts at faithfulness. Later—especially when he became the leader of the early church—this experience would be a tremendous blessing, not only for Peter, but for the entire church. Losing our focus on Jesus brings doubt and fear, but placing our focus on Christ's providential faithfulness leads to our own faithful perseverance. Therefore, as the author of Hebrews writes, "Let us run with perseverance the race that is set before us, looking to Jesus the pioneer and perfecter of our faith" (Heb. 12:1–2).
Sometimes we pray that God would stop the wind immediately, solve our problems quickly, and make the waves die down before we become exhausted. However, God seems to have another goal—to allow us to learn through the situation. For us, our immediate success or failure is the most important thing; but for God, our sustained spiritual growth is the measure of true and abiding success. And often God chooses to allow failures so that our fallible faith can learn to rest on his infallible faithfulness.
Adapted from "Spiritual Formation Through Failure and Faithful Perseverance" by HaYoung Son, from Spiritual Formation for the Global Church: A Multi-Denominational, Multi-Ethnic Approach, ed. Ryan A. Brant and John Frederick. Copyright © 2021 by Ryan A. Brandt and John Frederick. Published by InterVarsity Press, Downers Grove, IL. IVPress.com