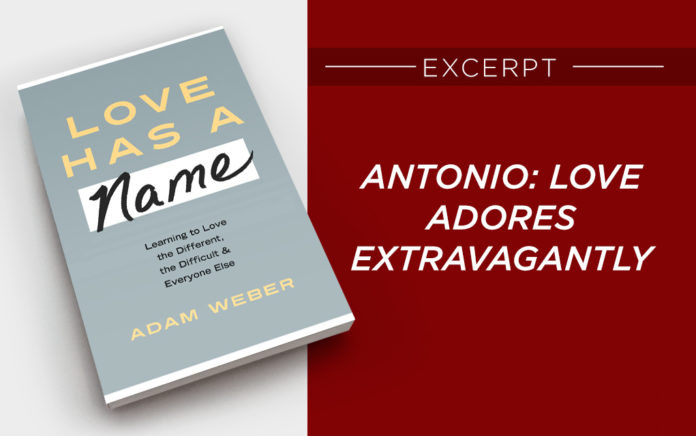 What unconditional love feels like
Excerpted From
Love Has a Name
By Adam Weber
I first met Antonio while I was preaching. Yep, it was a Sunday and I was onstage when I first "met" him. I was sharing about some of the hard things that people experience in life, the trials life brings where you wonder if you'll make it through:
Losing a job.
A miscarriage.
A cancer diagnosis.
Divorce.
As I began to list off hardships, I heard something in the crowd. Someone … laughing? Now, I've learned to preach through pretty much anything: kids screaming, people in the front row getting up to use the bathroom, old guys snoring (it's always the guys), even giant flies dive-bombing my notes, but I have to admit, I paused for a second.
Who laughs at divorce or losing a child?
Maybe the person had heard me wrong and thought it was a joke or had gotten a funny text message from a friend. When the burst of laughter stopped, I continued with my message.
The following week, I was again talking about something heavy and heard laughter in the middle of it. What is going on?
After the service, I mentioned the ill-timed laughing to our campus pastor, asking if I'd missed something. He just smiled and said, "Let me introduce you to Antonio."
We went on a brief walk through the after-service crowd. He led me over to a short African American guy wearing fingerless gloves, holding a cup of coffee with both hands. Antonio!
The minute he saw me walking toward him, he started shaking, giddy with excitement. I was tempted to turn around. Like, was the Biebs behind me or something? Could this guy—whom I'd never met—be this excited to see me?
"Hi, my name's Adam," I said.
"H-i-i-i-i," he responded sheepishly.
"What's your name?"
He nervously responded, "An-to-ni-o."
"How are you doing?"
"G-o-o-o-d."
"Do you come to church here often?"
"Yeah-h-h-h."
The more we talked, the more excited Antonio got, responding to all my questions with drawn-out, one-word answers. This short interaction with Antonio may not seem like a big deal to you, but it meant so much to me. I felt so loved. He made me feel special. He made me feel like the most important person in the room. In our two-minute conversation, Antonio loved me extravagantly.
The word adore means "to cherish, to treasure." Antonio talked with me like he'd found a treasure. I had his full attention. He wasn't distracted. He was truly ecstatic to talk with me. Antonio listened to every word I spoke, and his excitement to meet me was visible.
At a young age, Antonio had a seizure that resulted in severe brain damage. Even though he's now 21 years old, he has the understanding of a 10-year-old. Yeah, sometimes he laughs during a worship service when I'm talking about something that isn't funny, such as divorce, but that's part of what makes him unique. From time to time, we've had people mention that Antonio was distracting them from connecting to the message and ask if he could be quieter.
Many people tend to avoid people like Antonio since they don't understand them. Antonio wears a permanent smile that's a bit hard to read if you've never met him. Is he being sincere? That and the way his hands shake make him different. Many people feel awkward when they attempt to engage him in conversation, since he offers only one-word responses. But even though Antonio is an awkward, simple guy, there's another thing that sets him apart: When you're with him, you can't help but feel totally and completely loved. In my experience with human beings, that's hard to find.
After meeting Antonio that first week, each time he saw me in the entryway on a Sunday, he would start smiling and shaking uncontrollably. Holding his cup of coffee in both hands like his life depended on it, he would come up to me and say hi, even if I was mid-conversation with someone else. He'd stand close by, smiling, even if I was praying for someone.
Each Sunday I began to look forward to these moments with Antonio. Far from feelings of awkwardness, I found myself hoping we would cross paths.
One day while I was driving around town, I saw Antonio on an outing with some friends from his group home. I rolled down my window. "Hey, Antonio!" I shouted. I hadn't thought it through very well, because when Antonio heard his name, he froze, smiling and shaking. In the middle of a crosswalk. In the middle of a road with lots of traffic. He started looking for the voice. Once he realized it was me, he began waving enthusiastically in my direction. I waved back—but then encouraged him to keep walking so he didn't get hit by a car. "Antonio, keep walking! Keep going!" As I drove away, I couldn't stop smiling. It was the highlight of my day!
Antonio is one of my favorite people on the planet. I'm better because of him. Just thinking about him makes me smile. He's a joy spreader! Our church is better because of him. Oftentimes, I think Antonio is Jesus in our midst. Reminding us not to take ourselves too seriously. Reminding us who and what is really important. The world is better because of him.
Antonio has taught me that love adores extravagantly.
Tell me more about this book »
Order this book from Amazon.com »
Excerpted from Love Has a Name: Learning to Love the Different, the Difficult, and Everyone Else. Copyright © 2020 by Adam Weber. Published by WaterBrook, an imprint of Penguin Random House LLC.