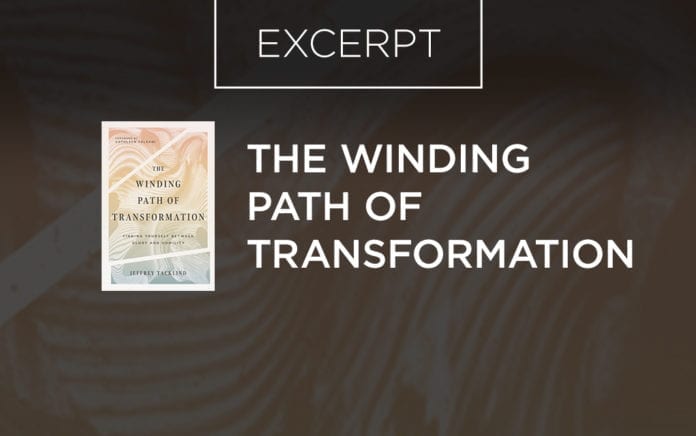 At what level is your appetite for transformation and freedom.
Excerpted From
The Winding Path of Transformation
By Jeffrey Tacklind
This book is about transformation—about doing deep heart work. It's about discovering interior freedom and seeing God's masterful hand at work. And it is about glory and humility and the beautiful way they interact to drive us toward our true selves. Even when the way appears crooked and bent. Even when the path turns unexpectedly. Especially when it does.
But transformation isn't merely the subject matter being discussed. The truths of this work are woven into the fabric of the writing itself. Because writing this book was a bit of a crooked journey. A winding path. And it continues to speak deep truths into my life to this very day.
The writing process was much more discovery than deduction. It emerged rather than having been constructed. And the ideas that I share are both as truthful and as raw as I felt I could be. That means I'm still wrestling and grappling with them. The stories I've written are continuing to shape me, and I'm still mining their depths. It continues to be a work in progress, as do I, one that I trust will never be finished, at least not in this life.
Carl Rogers said, "What is the most personal is the most universal." I'm banking on that. That these words I've written and stories of transformation wouldn't merely illuminate the details of my own journey, but would cast vision for yours. That they would create a lens through which to clarify your own moments of consolation and desolation, and that you too might better recognize the subtle hand of God at work in your own story.
Because life is a winding road. Unpredictable. Confusing. And without a clear course or map. And this winding seems to be intentional—it's there by design. It ensures that we remain close and pay attention to our guide, and learn to trust his words even when times are cold and dark, or when the voice has become quiet or even absent. When we start to lose our vision, and begin to long for the comforts of home.
And the winding path ensures that our eyes become trained to see and recognize the provision and goodness that otherwise go overlooked in our hurry to get from one place to the next. Because these glimpses of joy along the path sustain us. They renew us. And they remind us that there is more to come.
Because our hearts long for more. At least mine does. And I hope yours does too. And as you read, I hope that your appetite for transformation and freedom would increase. That you would learn to walk in deeper faith through the paradoxes and complexities of life. And that, in the midst of life's tension, you would learn to walk with courage down this winding path of transformation that leads ultimately to glory.
Tell me more about this book »
Order this book from Amazon.com »
Excerpted from The Winding Path of Transformation by Jeffrey Tacklind. Copyright © 2019 by Jeffrey Tacklind. Published by InterVarsity Press, Downers Grove, IL. IVPress.com