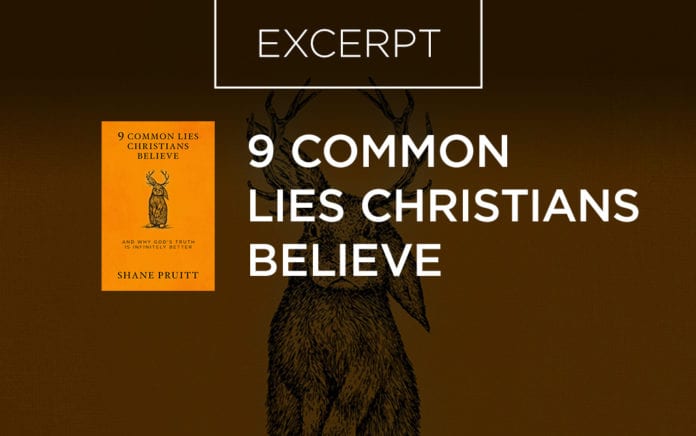 Happiness comes and goes, but joy is made of different stuff.
Excerpted From
9 Common Lies Christians Believe
By Shane Pruitt
Joy > Happiness
I've been in ministry for over seventeen years. Unfortunately, I can tell you story after story of people walking away from the truth and teachings of Scripture in order to pursue happiness. Some break a promise, others verbally tear people down, and still others decide not to be married anymore because they found someone else who, unlike their current spouse, "rocks their world." Whatever the situation, they come to a moment of justification and play that card: "At the end of the day, I know God just wants me to be happy."
Now, don't get me wrong. I'm not anti-happy. I'm a big fan of healthy happiness. What I'm talking about is the world's definition of happiness or, even more relevant to each of us, our own view of happiness. The world's idea of happiness is directly tied to circumstances. If our circumstances are favorable, then we're happy. If not, then we're not.
But here's the deal. Our circumstances change all the time. Many of us allow these vacillating circumstances to dictate our happiness. It's an extremely dangerous scenario when outward forces control our inward feelings. If we're pursuing that kind of happiness, we'll end up in a ditch of resentment and regret. It's this elusive lie, like greener pastures or beautifully colored plastic frogs, that lure us away from God's best, eventually hooking us into a fight for our very lives. And we find ourselves stuck or hooked just steps before becoming miserable and depressed (not happy).
Here's good question number two: What if God desires more for us than happiness? Is it possible that in the pursuit of happiness, we're completely missing God himself? After all, he is the only one who can truly make us happy. Does God have something more in store for you and me than just happiness? Okay, here's the wonderful answer to those good questions. Three little letters: J-O-Y.
God desires that you and I experience joy, that settled state of contentment, confidence and hope that comes only from trusting him. Sadly though, we often miss it because we're too busy chasing happiness. The truth is, God has a whole lot to say in his Word about this great gift of joy. The word joy appears 88 times in the Old Testament and 57 times in the New Testament. Here are three definitive biblical truths that explain why joy is greater than happiness.
Joy Is a Fruit of the Holy Spirit
Joy is the second fruit of the Holy Spirit listed in Galatians 5: "The fruit of the Spirit is love, joy …" (v. 22). Out of all the great gift givers in the world, and there are a lot of amazing philanthropists out there, God is the greatest of them all. God is continuously giving his followers his very best—himself! "This is eternal life, that they know you, the only true God, and Jesus Christ whom you have sent" (John 17:3). This is also the greatest news of the gospel. You get God! You get to know him, behold him, experience him and have his Spirit live inside you. When God comes to live inside you, you get love, peace, hope, life and joy.
In the Bible, fruit is a symbol of character. The list of the fruit of the Holy Spirit in Galatians 5 is a list of characteristics that should naturally flow out of Christians' lives when they have God inside them. One of the recurring questions people often struggle with is how to know whether God lives inside them. They ask, "How do I know if I am truly a Christian?" Well, the fruit of the Holy Spirit should be evident in their lives. This fruit looks different in each of us because each of us is different. And we'll never be perfect in these areas because we are still wrestling against the old sin nature that wants to be the opposite of gentle, kind, loving and joyful. However, one of the most distinct markers that the Spirit of God dwells in you is the presence of joy in your life.
If you have the Spirit, you will have joy. This is one of the fundamental differences between biblical joy and worldly happiness. We attempt to find happiness from favorable circumstances, but we receive joy only as a gift from the favorable God. Happiness comes and goes as circumstances and feelings change. Joy, however, is here to stay.
Joy Is Not Built on Circumstances but on a Person Named Jesus
Joy will always be wherever Jesus and his Spirit are. Incredible promises are given to the children of God: "I am with you always, to the end of the age" (Matt. 28:20). "I will never leave you nor forsake you" (Heb. 13:5). These beautiful truths are yet another indication of why joy is truly greater than happiness. Joy is not built on outward circumstances but on Christ dwelling inside believers. If the Spirit of Christ is always inside me and will never leave me, then my joy will never leave me. No matter what I go through, I can have joy because my God is with me.
Good days—joy.
Bad days—joy.
Suffering—joy.
When everything goes my way—joy.
When nothing goes my way—joy.
My joy remains because my Christ remains.
Now, just so we're clear, joy is not always laughing, smiling and being silly. Don't confuse joy promised in the Bible with upbeat feelings. Remember, feelings come and go, but genuine Christian joy remains. Joy is also not the power of positive thinking or a bubbly, optimistic personality. Suffering and difficulty are very real scenarios that every person must face. Jesus knew suffering all too well. While he was doing good—causing the blind to see, the deaf to hear and the lame to walk—religious people were conspiring to kill him. Though he was completely innocent of sin, he took our place on the cross and endured unimaginable suffering and injustice. Yet all the while, he walked, lived and showed joy.
Jesus was joy personified. He was the epitome of contentment, confidence and hope in who he was and what his heavenly Father had called him to do. Even in the midst of extreme suffering and injustice, Jesus had—and was—joy.
C'mon, Shane, of course, He's Jesus! He could do that. He is perfect. I can't do that because I'm not perfect. I'm not Jesus.
This is all true. He is Jesus and you're not. However, being a Christian means you have Christ in you. "I have been crucified with Christ. It is no longer I who live, but Christ who lives in me. And the life I now live in the flesh I live by faith in the Son of God, who loved me and gave himself for me" (Gal. 2:20). If it is true that Christ is in you, then it is also true that his joy is in you. Jesus' joy is in you! "These things I have spoken to you, that my joy may be in you, and that your joy may be full" ( John 15:11).
As long as your focus is on Jesus and his joy inside you, your soul will be satisfied. However, if you take your eyes off him and begin to chase after the lures of happiness promised by the world, your joy will wane and your soul will become dissatisfied. That sounds too simple, doesn't it? But guess what? It truly is that simple. With Jesus there is joy.
Joy Is a Command from Scripture
Isn't it sad that Christians are often the most miserable people around? Do you know people who walk into the church building on Sundays looking as though they've been sucking on a sour pickle all morning? With a scrunched-up face and a furrowed brow, they say, "God is good, all the time. All the time, God is good." To which it takes everything within you not to reply, "Well, would you tell your face that? Because you look absolutely miserable!" Nothing is more confusing to the world than for God's people to say they have joy in their hearts while they have misery on their faces.
The Holy Spirit of God gives all believers this incredible fruit called joy, deep in our souls. Again, this may not cause us to grin from ear to ear, but I do believe it means our countenance should reflect a trust in God's goodness. I love the command from Holy Scripture that specifies when we are to rejoice—always. "Rejoice in the Lord always; again I will say, rejoice" (Phil. 4:4). Notice that the verse does not say, "Rejoice when everything is going your way. Rejoice when everything makes sense. Rejoice if you feel like it." But rather, the command is to "rejoice in the Lord always." It's almost as if the writer, the apostle Paul, was saying, "In case you missed it the first time, let me say it one more time—rejoice!" It's not a suggestion. It's not even something to do in response to some good fortune in your life. Rather, this is a command to rejoice at all times, no matter what is going on in your life. You see, God is pretty serious about joy. The truth is, we're not told to always be happy, but we are commanded to rejoice always.
If you're sick and tired of being sick and tired from the pursuit of happiness, might it be time for you to start resting in joy? Maybe you find yourself in a circumstance that doesn't always make you have happy feelings. Remember, God is with you. If he is with you, then joy is with you too.
When everything makes sense, rejoice. When nothing makes sense, rejoice. When everything is going your way, rejoice. When nothing is going your way, rejoice. When you're rejoicing, you're walking in freedom. You're walking in freedom because you're walking in obedience to your great God.
Tell me more about this book »
Order this book from Amazon.com »