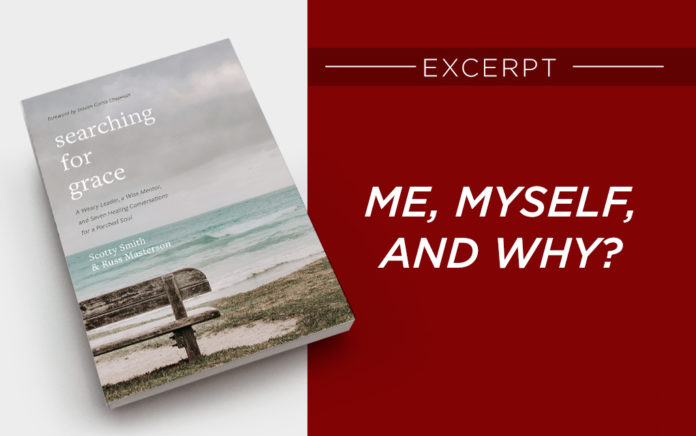 Excerpted From 'Searching for Grace' (Tyndale)
Excerpted From
Searching for Grace
By Scotty Smith and Russ Masterson
Is ambition a bad thing?
That depends. Having a sense of impact and purpose is a good thing. But, we need to make sure we root those longings in the right story and the right glory. We matter, but we're not the point. If we define ourselves by the wrong metrics, in time, we will despair—ending life bankrupt of true riches. Only God has the right to define success.
Having a quiet heart doesn't mean not having dreams. It means our dreams don't define or enslave us. The full gaze of our hearts isn't dependent on them coming true.
Our broader culture has infected Christian subculture with the disease of "success"—the idea that bigger is better, that more is marvelous. We've become insatiable consumers, performers rather than adorers, observers rather than servants. Though God tells us "in quietness and trust is your strength" (Isaiah 30:15 NIV), we often say to him, "in muchness and manyness will we find our meaning."
The prophet Jeremiah wrote to exiles in Babylon who were living in a foreign land,
Build houses and live in them; plant gardens and eat their produce. Take wives and have sons and daughters; take wives for your sons, and give your daughters in marriage, that they may bear sons and daughters; multiply there, and do not decrease. But seek the welfare of the city where I have sent you into exile, and pray to the Lord on its behalf, for in its welfare you will find your welfare. Jeremiah 29:5-7
Jeremiah's instructions to the Israelites apply to us, too. We are to be extraordinary in the place we reside, as we go about the normal day-to-day functions. Live somewhere. Love that place and those people. Build great marriages and families. Raise and adore your children. Work hard and build community. Drive in traffic and sing. Do the dishes and pray. We often make the mistake of thinking that being extraordinary means you have to be the next Mother Teresa or Bill Gates or Martin Luther King Jr. You don't have to change the world by being on the grand stages of society. We are called into a kingdom where God is changing the world and welcomes us to be participants, whether we dance on stages or befriend someone in our cul-de-sac. When we live out radical love in our normal lives, that's when grace turns everything upside down.
Almost twenty years ago, when I was at L'Abri, I took a day off from my studies and rode a train into London to spend time with friends who were on study-abroad programs in the city. We toured the historic sites and shopped at the charming market in Notting Hill. Late in the day we decided to attend a matinee musical, so I didn't board a train for the two-hour return ride south until past dark.
I passed the time on the train reading and thinking about what I would do with my life.
Which seminary should I attend?
What kind of job will I get?
How will I launch myself into the world after college?
Will I get married, and when? To whom?
These questions of my future came with both hope and fear.
When the train stopped in the village of Greatham, I deboarded and began the two-mile walk to the manor home. It was April, and the cutting wind of winter had turned to a mild, crisp breeze. There were a few streetlights spread out along the two-lane country road, but for the most part I walked in darkness, lit only by a thousand radiant stars. The lone sound was the loose gravel crunching on the asphalt as I walked down the middle of the road.
After walking for about a mile, I could see neither the train station I'd left nor the crossroad I would turn at, and I stopped to look up at the stars. I knew the stars were galaxies away, but they felt near. As I stared at them, the distance between us grew smaller, and suddenly a wave of fear overcame me.
No one was there, but there was a Presence.
I was certain of it.
I was on the other side of the world, far from friends and family, in the middle of nowhere. This was twenty years ago, so there was no phone in my pocket. Nobody in the world knew where I was in that moment, and it was both terrifying and freeing. I thought about running. I was a fast runner, but for some reason, my feet didn't move. I grew aware that the Presence wasn't there to shame me but to be with me, to be my mighty fortress against all the fear, shame and sin rumbling in my heart.
Then the Spirit spoke to my spirit,
I know exactly where you are.
I know exactly who you are.
I know all of you, and I love all of you.
In that moment I was terrified, as I wasn't yet ready to be fully known. I couldn't have articulated it at the time, but I wasn't sure I wanted to know myself.
What if I wasn't good enough?
What if I was normal?
Francis Schaeffer, the theologian who founded L'Abri, writes, "We all tend to emphasize big works and big places, but all such emphasis is of the flesh. To think in such terms is simply to hearken back to the old, unconverted, egoist, self-centered Me. This attitude, taken from the world, is more dangerous to the Christian than fleshly amusement or practice. It is the flesh." Schaeffer goes on to say that Christians should proactively seek the lowest position, even as we're tempted to look for greater positions of prestige.
In the little places, where there is less pressure, we can more easily practice drawing close to God and resting in him. And then if God opens the doors to positions of increased responsibility and influence, we can move forward already equipped in humility, gratitude and quietness. When we step out of the spotlight, away from accolades and attention, we learn to take comfort in the Lord rather than in our own power or performance. As Scotty says, "Seek to live with gospel astonishment wherever God places you."
The world wants to speed us up, but our heavenly Father is committed to slowing us down. Too many churches tend to communicate, "Get busy and show God you're sincere." But our Father says, "Be still, and know that I am God" (Psalm 46:10). We aren't to give God bit parts in our stories. We are to live as characters in and carriers of his Story.
Order this book from Amazon.com »
Excerpted from Searching for Grace: A Weary Leader, a Wise Mentor and Seven Healing Conversations for a Parched Soul by Scotty Smith and Russ Masterson. Published by Tyndale House Publishers. Copyright 2021.