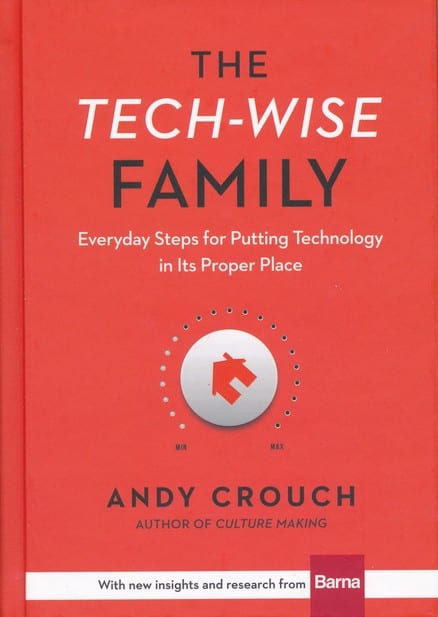 Andy Crouch: Everyday Steps for Putting Technology in Its Proper Place
The Tech-Wise Family
Everyday Steps for Putting Technology in Its Proper Place
(Baker Books, 2017)
WHO: Andy Crouch, executive editor of Christianity Today.
HE SAYS:"If we don't put technology in all its forms, in its proper place, we will miss out on many of the best parts of life in a family."
THE BIG IDEA:It's not just about setting up an internet filter or yelling at the kids to turn off their devices. Becoming a tech-wise family digs deeper into the purpose of the family and how deciding on who you are as a family influences the use of technology.
THE PROGRESSION:
After assurances from the author that he isn't advocating throwing out our computers, he offers 10 "commandments" for families to use as a jumping-off point for conversations.
In Part 1, Andy lays out the three key decisions a tech-wise family needs to make about choosing wisdom over expediency, setting up their living spaces and structuring their time.
Part 2 is a deep dive into what those decisions look like lived out in daily life: technology and sleeping, working, learning, being bored, traveling and keeping secrets.
Part 3 examines what it means to be fully present for someone, in good times and bad.
"Making good choices about technology in our families is about building character, wisdom and courage rather than accepting technology's promises of ease and instant gratification."
Order this book from Amazon.com »
Read an excerpt from this book »
A 2018 OUTREACH RESOURCE OF THE YEAR—COUNSELING AND RELATIONSHIPS CATEGORY
"Whether parents are challenged by limiting the use of technology, looking to filter content, trying to find quality family time, or are worried about social media and access to pornography, this nicely packaged book has answers. It's accessible, practical and chock-full of insights and research that every modern household can use. It will help every parent sort out where technology actually belongs in our homes and lives without making them feel guilty or raising the bar to unreasonable heights."
Evaluated by Drs. Les and Leslie Parrott, founders of the marriage assessment SYMBIS.com, and authors of The Good Fight, Crazy Good Sex and Saving Your Marriage Before It Starts.