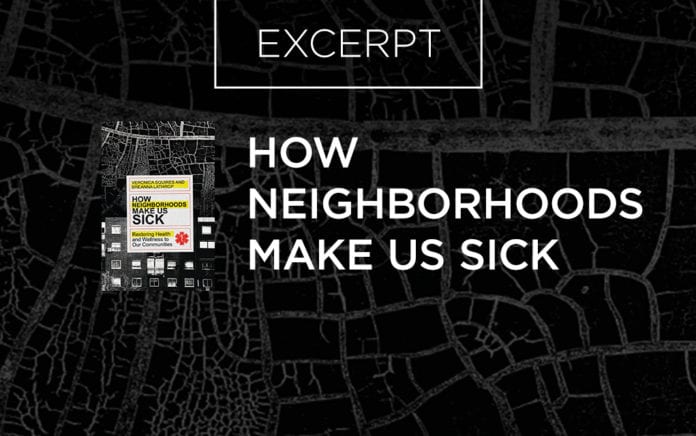 Changing the policies that sustain systemic injustice seems daunting, but here are ways to start.
Excerpted From
How Neighborhoods Make Us Sick
By Veronica Squires and Breanna Lathrop
On the staff bulletin board at Good Samaritan Health Center Atlanta (Good Sam) hangs a cartoon strip carefully torn from a newspaper and yellowing with age. In the first frame the character gets out of bed and reaches for his to-do list. The to-do list says, "Save the world." The character pauses and then thinks, "Good thing I got up early." When we think about social determinants of health and life-expectancy gaps, the solution seems like saving the world: elusive and overwhelming. However, our work in Atlanta has convinced us that change, while difficult, is very much possible.
This book has focused on local interventions as strategies for addressing social determinants to achieve health equity. This is, in part, because our personal experience and expertise lie in this area. Second, local initiatives are often the most effective at creating community change and can be incubating grounds for larger social movements. Housing First, for example, started as a pilot program in New York and is now a national strategy for eliminating homelessness. The social justice focus and equity-review process employed in King County are being explored in other U.S. counties with national implications for how we make policy decisions. However, we would be remiss not to emphasize that achieving health equity and narrowing the life-expectancy gap is not possible without national-level reform.
In their discussion of social determinants of health and the built environment, Amy Schultz and Mary Northridge note that economic and political orders, legal codes, human rights doctrine and social ideologies in the United States have created concentrations of poverty and wealth, often leaving racial and ethnic minority groups with less access to social, political and material resources. The implications of this are substantial. While well-designed local interventions and community-level reforms can mitigate the damage, we cannot change the trajectory of US health inequity without addressing national policy. For example, housing policies need to increase the availability of affordable housing and fund housing vouchers that allow for independent living rather than homeless shelters. Living-wage laws promote gainful employment and allow working adults to support their families.
Fortunately, social ideology in the United States is slowly starting to change. Sixty-five percent of Americans believe that "one of the big problems in this country is that we don't give everyone an equal chance in life," up from 53 percent in 2010. The majority of Americans favor a more equal distribution of money, housing subsidies and raising the federal minimum wage. The next step is for these social ideologies to inform our policy making. This requires widespread participation in advocacy and increasing participation among diverse populations.
Engaging in advocacy is not easy. Whether you are balancing a career, school, family or simply all the management daily life requires, finding time to engage in the political process is difficult. However, you don't have to be an expert to make a meaningful impact in national policy. Start by finding a topic you care about and take the time to become knowledgeable in that area. For Breanna, the obvious fit is health care. When health care legislation is up for a vote at the federal level, Breanna makes calls and send emails, sharing them with friends and colleagues so that they can send similar ones. Veronica is particularly engaged in the Georgia Charitable Care Network, promoting the success of clinics like Good Sam. However, we recognize that economic, housing, environmental and educational policies are even more important in promoting health equity than health care policy. Yet we are not experts in all of these areas. Clearly, there are numerous social determinants needing champions for change, but no one can do everything.
Rather than becoming overwhelmed by issues in which you lack experience or expertise, find an organization or individual who is passionate about the topic and aligns with your values. Sign up to receive policy briefs from an organization you trust. When they send an email asking you to make a call, use their script and call. Keep in mind that you can advocate for policies that promote health equity without aligning with a particular political party. National, bipartisan commitment to health equity is necessary for its achievement.
Progress is also advanced when diversity in leadership and advocacy increases. Poor people and members of minority groups are less politically active than those with social and economic advantage. They are also less likely to mount opposition when policies are not in their favor and services are reduced in their area, creating a situation in which elected officials are less incentivized to respond. People who are experiencing homelessness, moving from job to job or struggling to make it to the end of the month with enough food are less likely to have the time and capacity for advocacy. Matias Valenzuela, the director of King County's Office of Equity and Social Justice, emphasizes that building community capacity is a core component of their strategic plan. "The question with any initiative is: How are you building community capacity?" he explains. To accomplish this, the county government partners with community organizations to fund capacity-building activities. The goal is not simply to improve an at-risk neighborhood but to give residents the power and resources they need to advocate for themselves. In King County this commitment also resulted in an internal evaluation of local government. The county examined its hiring practices to promote more diversity in all levels of county government and particularly in leadership positions.
We think about what capacity building might look like at Good Sam. Providers talk to their patients about healthy living choices, housing and employment, but how can we equip them to advocate for policy change? Patients have asked us if we think health insurance is worth the money. We were regularly asked if the Affordable Care Act would make any difference. These questions continue to challenge us. We would never withhold a medication or treatment that could benefit patients, yet we have not done much to help them understand how many of our nation's health care policies work against them.
Just like social ideology, political and economic systems can change. The same systems that have sustained inequality in the United States have the power to eliminate inequity and disparities. Collectively, we have the ability to restructure our systems in ways that promote the health of all of our neighbors.
Tell me more about this book »
Order this book from Amazon.com »
Excerpted from How Neighborhoods Make Us Sick by Veronica Squires and Breanna Lathrop. Copyright (c) 2018 by Veronica S. Squires and Breanna L. Lathrop. Published by InterVarsity Press, Downers Grove, IL. IVPress.com