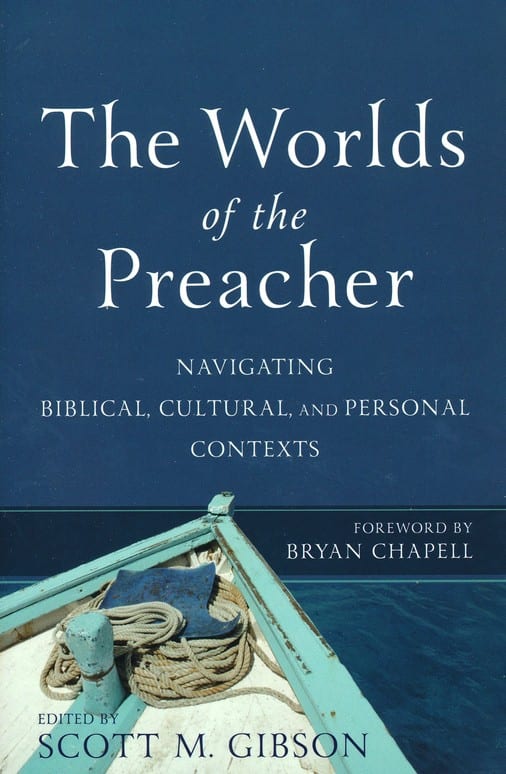 Scott Gibson: Navigating Biblical, Cultural and Personal Contexts
The Worlds of the Preacher
Navigating Biblical, Cultural and Personal Contexts
(Baker, 2018)
WHO: Scott Gibson, the Haddon W. Robinson Professor of Preaching and Ministry and director of the Center for Preaching at Gordon-Conwell Theological Seminary.
HE SAYS: "Intentional under development and inter-development of the preacher's character will shape the preacher's world and the way in which that world is understood and perceived by those in the church and outside the church."
THE BIG IDEA: Ten accomplished evangelical preachers and teachers help students and pastors understand the worlds—biblical, cultural, and personal—that influence their preaching.
THE PROGRESSION:
The book begins with Haddon Robinson's lecture, "The Worlds of the Preacher," a look at the four worlds—the ancient world of the Bible, the modern world, the world of the preacher's listeners and the preacher's personal world—that impact a preacher.
Chapter 2 examines four aspects of the Old Testament world that preachers must understand, while Chapter 3 focuses on a conceptual model that clarifies what preachers do.
Chapter 4 examines the innerworld of the preacher, including growth and maturity.
Chapter 5 discusses the world of ethnic and cultural issues.
Chapter 6 focuses on the worlds of the listener.
Chapter 7 considers elements that preachers need to know in order to be effective.
Chapter 8 challenges readers to embrace preaching that seeks to see the image of God filling the earth.
In Chapter 9, readers are encouraged to see the value of historical insight.
Chapter 10 wraps the book up by helping preachers consider preaching styles in an age consumed with images.
"We want to cultivate our character by putting into practice these gospel virtues of confession, repentance, and holiness—these nurture us toward the markers of Christian maturity in the context of discipleship. When we do, our personal world will be changed, and the ministry that God has given to us will be transformed and strengthened too."
Order this book from Amazon.com »
Read an excerpt from this book »