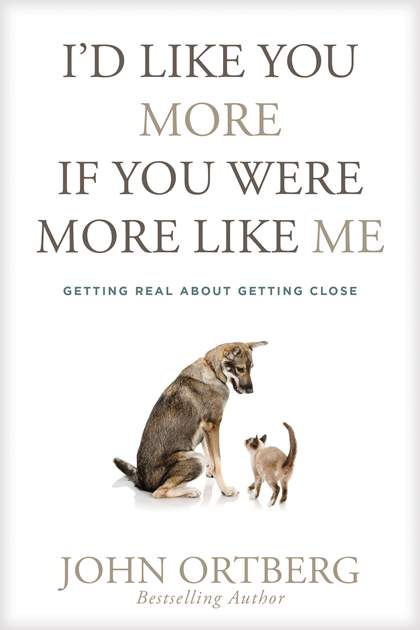 John Ortberg: Getting Real about Getting Close
I'd Like You More If You Were More Like Me
Getting Real About Getting Close
(Tyndale Momentum, 2017)
WHO: John Ortberg, senior pastor of Menlo Church in northern California and a best-selling author.
HE SAYS: "I believe God uses our relationships with other people to teach us how to love him."
THE BIG IDEA: We all want intimacy, we want a sense of belonging, we want to be loved. But the problem comes when we make mistakes and push people away rather than invite them in.
THE PROGRESSION:
John believes we are made for intimacy. In this book he explores obstacles to intimacy, the difference between sex and intimacy, the reasons people fear intimacy, the different way people experience intimacy and intimacy with God.
Throughout he uses a conversational style that welcomes the reader. He includes anecdotal stories, Scripture and quotes to help communicate his message.
The conclusion doesn't claim we learn intimacy with God through intimacy with others (or vice versa). John says that it's both, because that's how life happens.
"God created us to offer love to others because he wants no one to miss out on an intimate connection with him."
Order this book from Amazon.com »
A 2018 Outreach Resource of the Year—Church Category
"The title alone tells you that this book is the real deal. John Ortberg has a way of prying out of us what we're reluctant to admit. Using crowbars of Scripture, experience and humor, he moves us closer to one another, our spouses and God."
"The beauty of the book is that it doesn't lay out which comes first, the chicken or the egg. Do we learn intimacy with God through intimacy with others, or is it the other way around? We don't master one before we master the other. They happen simultaneously."
Evaluated by Peyton Jones, church planter, trainer and author of Reaching the Unreached: Becoming Raiders of the Lost Art and Church Zero: Raising 1st Century Churches Out of the Ashes of the 21st Century Church.
ALSO AVAILABLE
I'd Like You More If You Were More Like Me Leader Connect Guide by John Ortberg (David C Cook). Ideal for group study, this six-session workbook includes facilitation tips, discussion questions and simple exercise. Downloadable video sessions from John Ortberg help set the stage for a meaningful study.