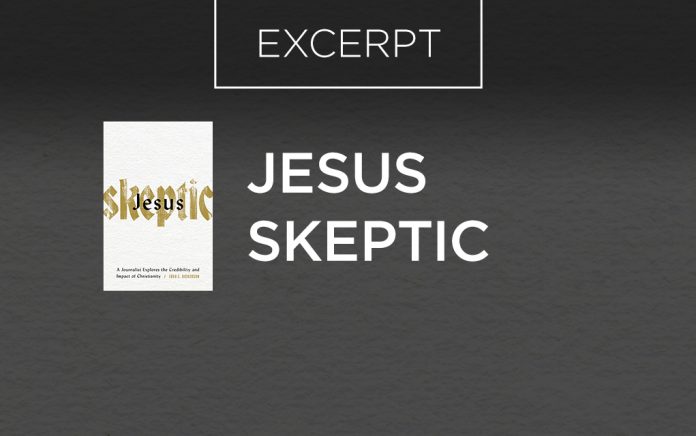 Three of the oldest hospitals in the U.S. were started by Christians, and remain in the top 20 today.
Excerpted From
Jesus Skeptic
By John Dickerson
Of the three oldest hospitals in the United States (each of which remains in the top 20 today), all three were started by overtly Christian organizations for Christian purposes of charity.
These hospitals began as Christian charities because, back in the 1800s, there were no hospitals as we know them today. The best (and most expensive) doctors only made house calls, which meant that only rich people could afford to see a doctor. The poor had to go without doctors. And so Christians—motivated by Christ's teaching to "care for the least of these"—began building hospitals where the poor could receive the medical care they could not afford. This was the birth of today's hospital.
For example, Harvard University's Massachusetts General Hospital was instigated by John Bartlett, a Christian pastor who served as chaplain for a charity to the poor in Boston known as the Almshouse. Like Mother Moes at the Mayo Clinic, it was Reverend Bartlett who cast the vision to a group of doctors to begin practicing in one place so that they could care for many impoverished people in one place.
Christian pastors cast the vision for these hospitals. Christian donors supported these hospitals, providing the bricks and beds. And Christian universities provided the medical faculty and first doctors for these hospitals.
The three oldest hospitals in the United States were each started by Christians, and each remains a leader in the innovation of modern healthcare practices.
• Pennsylvania Hospital—founded in 1751 by Quaker Christian Dr. Thomas Bond and Benjamin Franklin, also a Christian; ranked No. 14 in the nation today.
• New York-Presbyterian Hospital—founded in 1771 by Episcopal Christian Samuel Bard; ranked No. 10 in the nation today. (Note: Founder Samuel Bard established an Episcopal church even while he led some of the earliest medical schools in the history of the United States.)
• Massachusetts General Hospital—founded in 1811 by Rev. John Bartlett, who was motivated by Christian charity for the poor; ranked No. 4 in the nation today.
The conclusion for any honest investigator is clear. If you have a deadly medical condition, you want to be in a hospital that was founded by Christians or Christian-trained doctors.
The Primary Evidence reveals an overwhelming Christian presence in the founding of the modern hospital and modern medicine as we know them today, and these Christian hospitals gave birth to the modern hospitals and medicine we enjoy today.
CHRISTIANS IMPROVING SOCIETY TODAY
The Story Continues: Medicine and Healthcare

Dr. Tom Catena, Catholic Missionary at Mother of Mercy Hospital, Sudan
Followers of Jesus founded the best hospitals in the United States, and they have been taking the developments of modern medicine to the "ends of the earth." On every populated continent, you can now find leading hospitals that were established by Christian founders or missionaries and are staffed by Christian-educated doctors. Dr. Tom Catena is just one example.
A Muslim chief referred to Dr. Tom Catena as "Jesus Christ" because, like Jesus, he heals the sick, makes the blind see and helps the lame walk. Although he would not claim to be Jesus, Dr. Tom, as his patients call him, credits Jesus as his role model and the motivation behind his challenging and dangerous work.
Dr. Tom is the only doctor serving more than a half million people in the war-torn Nuba Mountains in the southern part of Sudan, Africa. For decades, civil war has ravaged this isolated and dangerous country. Residents faced daily bombings until recent years, when economic sanctions were lifted against Sudan. One bomb landed within miles of Dr. Tom's home and the hospital where he works. Almost no humanitarian relief has been provided to the Nubans since the fighting started. There is not enough food and virtually no knowledge of modern medicine.
Dr. Tom's 435-bed Mother of Mercy Hospital is the only healthcare facility in the region. The hospital typically has no electricity or running water. Dr. Tom and his team treat up to 400 patients a day and perform more than 2,000 surgeries a year (many of which he learned to perform on the job). Many patients walk for seven days to receive treatment at Mother of Mercy Hospital. Dr. Tom also treats a community of lepers. He is on call 24/7 and earns around $350 per month.
Dr. Tom has lived in Sudan since 2007. A native of upstate New York, Dr. Tom earned a degree in mechanical engineering from Brown University but felt called to missions as a follower of Jesus. Realizing that there were limited opportunities with his background, Dr. Tom went to medical school so that he could pursue missions. He volunteered at a hospital in Kenya for six years before moving to Sudan and establishing Mother of Mercy Hospital.
Dr. Tom says that Christ's mission is also his mission—to serve the least of these, the poorest of the poor. He says that faith in Christ drives his desire and willingness to stay and serve the people of Sudan, despite the overwhelming challenges and personal dangers he faces daily.
"I've been given benefits from the day I was born," Dr. Tom is quoted as saying in the New York Times. "A loving family. A great education. So I see it as an obligation, as a Christian and as a human being, to help."
Order this book from Amazon.com »
Tell me more about this book »
Excerpted from Jesus Skeptic by John S. Dickerson. Copyright 2019. Baker Books, a division of Baker Publishing Group. Used by permission. BakerPublishingGroup.com.