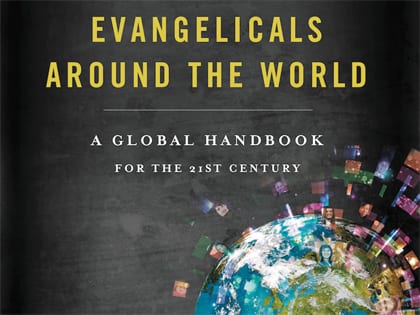 Brian C. Stiller: A Global Handbook for the 21st Century
Resource of the Year: Cross-Cultural
Evangelicals Around the World: A Global Handbook for the 21st Century
By Brian C. Stiller, general editor (Thomas Nelson)
What in the world is God doing? In our world hurtling into the 21st century with brutal terrorism lurking around café corners and office parties, millions trudging anywhere seeking security, famines, floods, earthquakes, wars and rumors of wars, it is disheartening to correlate the global news with our Christian proclamation: Whatever happened to the Good News?
Evangelicals Around the World is a global handbook for our century produced by The World Evangelical Alliance using a contingent of multicultural scholars and activists such as Brian and Karen Stiller, Todd Johnson and Mark Hutchinson, which positively unfolds the answers to the troubling questions of our time.
The handbook is full of rich insight that in kaleidoscopic fullness sheds light on the history, real-life stories and diversity of evangelical life and witness around the world. From politics, ecumenism, science, social justice and the arts to expounding the evangelical goals and identity in numerous regions of Africa, Asia, Europe, Latin America, North America and Oceania, this invaluable panoramic resource for all Christians gives us courage and understanding of the opportunities and challenges we face as the global church in cross-cultural reconciliation.
EVALUATED BY ROBERT GALLAGHER, Ph.D., Fuller Theological Seminary, the department chair and director of the Master of Arts program in intercultural studies and associate professor of intercultural studies at Wheaton College Graduate School in Chicago, where he has taught since 1998. He previously served as the president of the American Society of Missiology (2010-2011) and as an executive pastor in Australia (1979-90), as well as being involved in theological education in Papua New Guinea and the South Pacific since 1984. His publications include the co-editing of Footprints of God: A Narrative Theology of Mission (MARC, 1999), Mission in Acts: Ancient Narratives in Contemporary Contexts (Orbis Books, 2004), and Landmark Essays in Mission and World Christianity (Orbis Books, 2009).
« Social Justice                                                                                        Church »