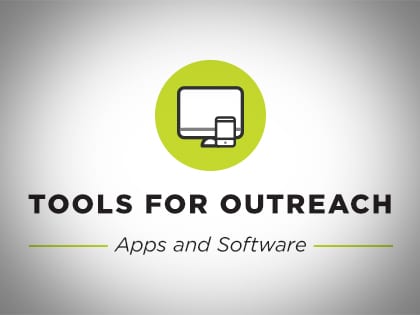 These resources will help you meet your administrative needs so you can be where you need to be—out in the community.
According to ACS Technologies, "Ministry isn't about being in the church office or by the door on Sunday morning. It's about meeting needs—wherever and whenever we are called to serve." Whether it's building a church app, managing your church-membership base or utilizing an online-giving tool, the following resources will help you meet your administrative needs so you can be where you need to be—out in the community, reaching the people in your sphere of influence. As Pushpay CEO Chris Heaslip says, "Everything we do is driven by our purpose to inspire generosity by fostering personal connection that leads to true change."
ACS Technologies: Offers a variety of products and solutions including: The Realm—web and mobile church management software; The City—used to facilitate an online community for your ministry staff and congregation; and ACS—church management, administration and accounting software. ACSTechnologies.com
Church360°: A complete suite of web-based church management software used for managing congregational information, finances and the church website. ConcordiaTechnology.org/Church360
Church Community Builder: Church management software that unites key tools and people-driven data into one secure location. Also offers coaching that helps churches align people, processes and software. ChurchCommunityBuilder.com
ChurchLink: A mobile app to provide instant access to sermons, videos, blogs, Facebook and Twitter. Also offers a mobile platform for churches that want custom-branded apps. ChurchLinkApp.com
Custom Church Apps: Enables a church to build its own custom app, providing a portal for online giving, social media integration, webcasting, digital Bibles, journaling and note-taking tools and more. CustomChurchApps.com
EasyWorship: Presentation software to facilitate and enhance the worship experience with tools for organization, slide design, video and data sharing. EasyWorship.com
Elexio: Offers church management software, website CMS and design, church check-in and mobile app in one web-based solution. Elexio.com
EZ Custom Apps: An online service that provides a way to build, publish and update mobile apps to support a church's custom content: podcasts, devotionals, giving and more. EZCustomApps.com
Icon Systems: Offers church management software that is accessible, mobile and editable in real time, including an accounting module, child check-in and church communication. IconCMO.com
iDonate: Unifies all donation options into a single giving-system so that donors can easily give money, cars, goods, stocks, etc., and takes care of the behind-the-scenes issues of donations like receipts, IRS compliance, vetting and more. iDonate.com
Lightside Games: Creates Christian online games that convey biblically based stories and messages for iPad, iPhone and Facebook. LightsideGames.com
Logos Bible Software by Faithlife: Explore the Bible with tools for Mac, PC, mobile devices and the web. Study the Word in its historical-cultural context; uncover meaning in the original languages and more. Logos.com
MoGiv: A simple system that builds sustainable relationships between nonprofit organizations and their supporters through communication vehicles that are used every day—mobile devices, computers and the internet. MoGiv.com
One Call Now: Communications solutions tailored for small, medium-sized and large churches, allowing for streamlined messaging, prayer chains, reminders and other church communication needs. OneCallNow.com/Religious
Phone Tree: A direct line of communication to a church's staff and attendees, delivering messages about meeting notices, cancellations, capital campaign reminders and more through their VoiceWave automated messaging system. PhoneTree.com
Piksel Faith: Helps grow a ministry physically and digitally by offering mobile apps, live streaming, online video platform and digital signage. PikselFaith.com
Planning Center Online: A family of mobile apps to facilitate church life, from a digital music reader to portable presentations to check-ins for kids and volunteers. Get.PlanningCenterOnline.com
Proclaim: A cloud-based approach to church presentations. ProclaimOnline.com
Pushpay: An easy-to-use mobile app that enables online giving anytime, anywhere in 10 seconds. PushPay.com
SecureGive: A comprehensive suite of tools to facilitate online giving, from a mobile app to campaigning tools to "giving kiosks." SecureGive.com
SermonCentral: The world's leader in sermon resources and research dedicated to equipping pastors worldwide in excellence in preaching. SermonCentral.com
Shelby Systems: Web-based church management software to manage membership, attendance, groups, check-in and more. Also offers web-based fund accounting software. ShelbySystems.com
Tithe.ly: Provides apps for mobile giving and church engagement as well as online ministry tools. Get.Tithe.ly
More Tools for Outreach:
ARCHITECTURE AND BUILDING
CONFERENCES AND EVENTS
FINANCIAL SERVICES
MINISTRY CONSULTING
RESOURCES FROM OUTREACH INC.