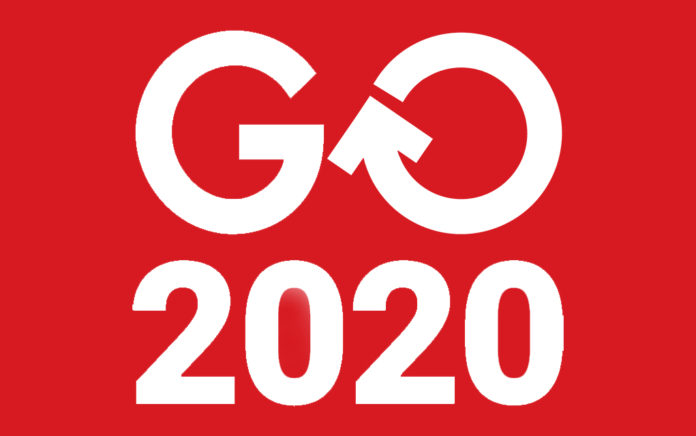 Go2020 is equipping believers worldwide to engage in relational evangelism.
"Go and make disciples of all nations."
We have all heard the call before, but have we heeded it? That is precisely what Go2020, an annual worldwide outreach, is aiming to do. A united, global movement of churches, ministries, and individuals, Go2020 is equipping believers to engage in relational evangelism. The initiative, an unprecedented partnership of over 140 countries, 250,000 churches and dozens of denominations, aims to mobilize 100 million believers worldwide (10 million in the U.S. alone) to reach 1 billion people (100 million in the U.S.) with the gospel.
When Go2020 was first conceived, the idea was to focus on the window of time between Easter and Pentecost, inviting Christians to spread Christ's love. In light of the pandemic, however, the vision has been expanded exponentially.
"Now we are thinking of it as a Go-decade," says Dave Gibson, Go2020's U.S. director. "May is really just a springboard into 2020 as we have this massive tidal wave of prayer sweeping into May."
Gibson references the support of a number of powerful Christian ministries who are on board with the movement, including National Day of Prayer; Campus Alliance; The Table Coalition; Christian Broadcasting Network; CRU (formerly Campus Crusade for Christ); Fellowship of Christian Athletes; Outreach Inc., the parent company of Outreach magazine; and dozens more.
"Well over 100,000 people have been fasting and praying for a manifestation of Jesus. It's incredible how God, in an unprecedented unity in the body of Christ, came around this common vision," says Gibson. "Then the Lord allows this big curveball to be thrown at us called COVID-19. We think it's the greatest opportunity ever to be praying our strategy."
The strategy is really quite simple: Christians are asked to pray, care and share for five relationships in their network. This might include a neighbor, family member, friend or colleague.
"We want prayer to be the fountainhead from which everything flows," says Gibson, who also serves as senior director of missions and evangelism at Grace Church in Eden Prairie, Minnesota.
Christians are asked to consider who they could pray for and then go about ministering to them—perhaps by delivering a meal or care package to someone or simply calling to check in. In the age of social distancing, one can lovingly share Christ with others via phone conversation, text or social media. There are lots of digital strategies for sharing the gospel.
"Jesus met people at a point of need when their lives were in crisis. He cared for the least, the last, the lost, and the hurting," says Gibson. "We're not dropping gospel grenades on people. We're just trying to be the hands and feet of God."
Despite stadiums, schools, shopping centers and even churches being shut down, the gospel cannot be quarantined.
"It stands in contrast to the world around us. While physically the world is staying put, spiritually we are invited to go bring the good news of Christ to all nations, and we can do that virtually," says Gibson.
According to Steve Douglass, president of CRU, this pandemic is set to launch one of the most massive gospel movements the world has ever seen.
"It's the opportunity of the millennium," says Douglass. "More people are alive today than ever before. More people are experiencing fear and anxiety than ever before. And more are open to looking to God for help than ever before."
In addition, the digital means now available enable folks to communicate with almost everyone in the world.
Gibson maintains that throughout history when people appear most weakened, whether they are imprisoned, impoverished, enslaved, persecuted, or in the midst of a pandemic, the gospel has flourished.
"We are praying for a revival of the church and a spiritual reawakening," says Gibson, noting that the answers to the nation's crisis do not lie in the White House but rather in God's house. He remarks, however, that revival doesn't come without devastation or desperation and currently we are going through a time of devastation.
"We worship athletes and all the stadiums are shut down. We worship entertainment and all the theaters are shut down. We worship money, and the economy is shut down," says Gibson. "This is not an event. It's a movement. We are praying for the Lord to allow us to be salt and light in a very dark world that is living in spiritual decay."
Gibson, a missions pastor who has traveled the world working with refugees, has seen firsthand that when people are faced with transition and trauma, they are much more receptive to the gospel. That phenomenon is playing out now as scores of nonbelievers are looking for answers, or, at the very least, a sense of peace.
"In order to decrease the percentage of those suffering, feeling afraid, and functioning without hope, we need to increase our percentage of participation in the Great Commission," says Gibson. Though he feels that in a lot of churches the Great Commission has become the Great Omission or even the Great Suggestion.
"The church needs to get out from behind the walls. We're not a hotel for the saints. We should be a hospital for the sinners," says Gibson, who claims that the season of Christianity is not going to be measured by the attendance of the services but in how close they can get to 100 percent participation in the lifestyle Jesus modeled.
A global shock wave has been sent round the world, affecting politics, economics, societal norms, and everyone's physical, emotional, and spiritual health. As a result, people everywhere are harboring a deep sense of instability and insecurity, which manifests as fear and anxiety. The global contagion has engulfed all reality, leaving people and nations in chaos. Not surprisingly, folks are scrambling to find a safe place to process their myriad emotions.
"There is only one who can provide confidence in the face of all this uncertainty. Only one who is above diseases and destinies, nature and nations, time and space, politics and economics, and that's Jesus," says Gibson.
Go2020 is meant to unite people with God.
"We are praying for a tidal wave of awakening," says Gibson. "We're shooting for the finish line where everyone gets the chance to hear the good news of Jesus Christ."
Church leaders looking for turnkey digital resources to engage, equip, and empower their congregation can visit Go2020.outreach.com.