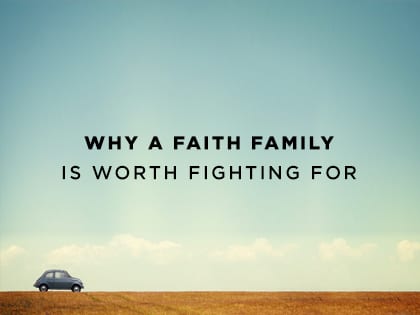 "You call it your home church, not because it's perfect, but because it's where you decide to become a regular on Sundays."
I don't know about you, but I have found that I don't feel settled in a new city until the Sunday routine is set. Usually that begins with looking for a new church, which is remarkably similar to dating—it's awkward and self-conscious and you're never quite sure if you're dressed appropriately.
At first you check out a church anonymously, sitting in the back and adamantly not filling out the newcomer card or raising your hand when the emcee invites you to be recognized. You do not want to be recognized.
After a positive first impression, the church and you might grab a drink—a free coffee available in the lobby, next to the smiley volunteer passing out bulletins. The bulletins are also free, as are the smiles, so this church is basically a jackpot of generosity. You like this.
And because good Christians fall in love under the oversight of half a dozen chaperones, the next natural step in your relationship is regular attendance at a small group (also known as life/cell/connection group). This happens on weeknights at someone's house around a coffee table where chips and salsa are all but guaranteed.
If things continue to go well, depending on the denomination, you attend a membership class. This is the promise ring of the relationship. It's around this time that you start to tell your parents about the church. You tell them about the people whose names you have memorized and the pastor who teaches very well even though he begins too many sentences with, "On this journey called life …" Your parents are thrilled you are settling down with a church and starting to think about making babies. I mean disciples.
After a whirlwind romance and a few fights over doctrine, theology and/or the loudness of the music, you decide that this is your church. You enter into a contract, become a member and agree to open up your life and your free time and, terrifyingly, a portion of your bank account to a community of people who promise to become your family.
In my experience, church commitment is generally followed by a honeymoon period where all seems right and well. That is, until you realize that every human relationship, including those within the church, is imperfect and sort of weird. Sometimes even disappointing. Often, there are things you would change, some details about the service order or song choices that you wish more closely resembled the church you grew up in.
But you realize that the only way to survive homesick Sundays is to find family in each place you are. In order to survive a life on the move, you must create a form of stability on Sundays. And the moment a church becomes this place, you upgrade its name with an important adjective, a moniker that makes all the difference.
You call it your home church, not because it's perfect, but because it's where you decide to become a regular on Sundays.
***
It seems to me that the good news of the gospel gets even better for those on the move, because God gave us family that traverses geography, a community of people that all call the same person Father. So now every place I go, I know that if I look hard enough I can find siblings nearby. Conveniently, many of them congregate at churches on Sundays. Church, then, becomes an orienting landmark to find the family I haven't met yet on the day I need them most.
On each new set of orders, we have settled at a different sort of church. In Yuma, we went to a mid-sized church that was older and a little sleepy. The first service on Sunday mornings was called the "traditional" service and featured a choir of white-haired adults who could sing any hymn in three-part harmony.
The second, "contemporary" service had an electric guitar and worship leader who wore jeans and flip-flops. About seven people raised their hands during worship in this service, which was perceived as an act of radicalism.
It wasn't the Sunday morning services, necessarily, that Mike and I loved about that church. It was how much we trusted the pastors and how much we loved our young-adult small group that met on Wednesday nights, with potluck dinners of Oreos, chips and stale brownies that some young Marines' mothers sent them in the mail.
We were all in our early twenties then and sat on the floor in a circle on Wednesday nights, wrestling with the truth of who Jesus is, who we are and why the intersection of the two matters.
When Mike and I moved to Athens, Georgia, for a four-month training school, we went to a satellite campus of a megachurch, where Christian celebrities preached to us from a movie screen every Sunday. All the young women, I noticed, wore cute cowboy boots with sundresses, while the young men wore khaki shorts in pastel shades and hung sunglasses from elastic "croakies" around their necks.
It was the South, ya'll. And during those months we went to church anonymously, which felt odd and hollow, like a house we regularly visited without ever feeling at home, a Sunday habit we kept purely on principle.
In a different city, we went for years to a church that was eagerly charismatic, where praying wasn't praying unless you paced the floor and talked fast, occasionally in tongues. The pastor spoke loudly and animatedly, preferred lots of lights and production, and always facilitated an extended altar call at the end of service.
On another set of orders, we went to a church that was quite intellectual and talked an awful lot about theology and "the elect." There were bagels in the foyer before each service, which was held in an elementary school gymnasium with folding chairs and curtains to cover the alligator mascot painted on the walls. This church was more intentional with relationship than any other we had attended. It was strictly no frills, yet it managed to mostly land on the things that truly mattered.
Among these, there were churches we loved and one church experience that wounded us deeply, that made us wonder if it was time to divorce the whole thing, maybe spend our Sundays at brunch or in the outdoors or in bed. Honestly, for a while we did. We listened to sermon podcasts and watched worship on YouTube.
But while belief in Christ is surely a vertical relationship, it is a horizontal one, too. None of us were adopted as only children. We were adopted in a crowd, in a pack, which means we have spiritual siblings all over the place. So even out of the disappointment and disillusionment rose the persistent, badgering heartbeat of family, of knowing there was somewhere we still belonged, of feeling that Sundays were family days that weren't intended for isolation. Family heritage isn't an easy thing to shake, as imperfect as it is.
My friend Kenra once told me that one of the ways Jesus was wise in establishing the church was that he knew it would be filled with broken and dysfunctional people, which makes the church itself often broken and dysfunctional. "But that way," Kenra said, "we can't worship the church. We can only worship Jesus. And church is where we go to worship him together."
If church is like family, then this much is true: It's not always easy. More often it's hard. My biological family, as beautiful and beloved as it is, has stumbled through divorce and consequent remarriages. We have gone through periods of fighting, of not talking, or periods where I talk to my sister about my brother or my brother about my sister. They annoy me. I annoy them. It's a whole thing. We have just as much sin and dysfunction as the rest. But still. But yet. But family.
There's a catch there, isn't there? A loyalty that trickles through your blood and the connectedness of your history, something you can't quite explain. Maybe this sounds trite—please forgive me if it does—but I stick with church for the same reason I stick with my family.
Without them I'm an orphan, a runaway. Without them, I'm missing wholeness and complexity, history and heritage. Like it or not, they are the tentacles of who I am. Without them, there's no need to practice forgiveness or believe in restoration. Without them, Jesus becomes a small personal mascot instead of a unifier, a restorer, a mediator of relationship.
Without the fight for roots, I forego them altogether.
***
In her book Traveling Mercies, Anne Lamott tells a story I love about a little girl who got lost in the town where she lived. The girl ran up and down the streets, looking for anything she recognized, but grew more and more frightened as her surroundings remained unfamiliar.
Eventually a police officer stopped to help her. The girl hopped in the passenger seat of the patrol car, and the officer drove her around town until she spotted a church. When the little girl saw it she said, "You could let me out now. This is my church, and I can always find my way home from here."
I'm not saying that that a sense of home or adoptive family can only be established in the four walls of church. Truly, it can happen anywhere. But when I feel displaced in my surroundings, when I'm in a hurry to find stability and I don't know where else to go, it is helpful to have a set meeting place. And when we move to a new town, feeling a bit like loners or orphans or vagabonds, when I feel like a lost little girl, I long to have coordinates of a place I know family can be found, an address that is easy to remember and identify.
So I suppose this is both a declaration and an invitation—that family is worth searching for, worth fighting for. And I go to church on Sundays now as a vote of confidence, as a way of telling my soul that someday I will kneel beside siblings at the throne of heaven.
But until then I will show up on Sundays and help set up chairs or pass out bulletins. I will commit to a local church as a way of making my temporary geography home. I will be reckless enough to hope, to set my alarm on the last day of the weekend. On Sundays, I will start at church as a place that helps me find my way home.
Taken from Almost There by Bekah DiFelice. Copyright © 2017. Used by permission of NavPress. All rights reserved. Represented by Tyndale House Publishers, Inc.
Order this book on Amazon.com »
Bekah DiFelice is a writer, wife to a former Marine, and mom of two kids. In Almost There, she shares her story of discovering pieces of home in the most unexpected places.