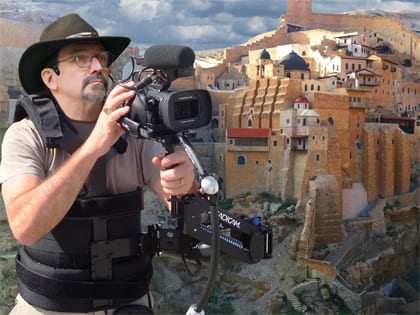 The Octagon Project and YouVersion have partnered to create a free, immersive virtual-reality tour of the Holy Land.
Just off the Jerusalem street known as the Via Dolorosa, or "way of sorrows," there is a small, Greek Orthodox Church called the Partorium Church. Imagine you are there, and you descend into the church's stone basement and head toward the back, where there is a dimly lit room with bars across the doorway. Your tour guide identifies this room as the prison of Barabbas: "According to an ancient tradition, Jesus and Barabbas were held simultaneously in the same dungeon."
You pause for a moment and look all around at the stone floor and windowless walls. Could this be the actual spot where Jesus awaited his trial? How many other prisoners would have been here in the darkness? You can only imagine what it must have been like for our Lord in his final hours.
This Easter, you can immerse yourself in this very experience—from the comfort of your own home. You don't have to worry about the expense, the crowds or the weather. All you have to do is open your YouVersion Bible app, which has partnered with The Octagon Project to bring you "The Easter Story in Virtual Reality."
This is a Bible-reading plan, coupled with 360-degree footage from some of the most iconic sites Jesus visited during his final days. The goal of the project is to help you experience the Bible like never before.
The Octagon Project
Dr. Gary Crossland is the innovator behind these 360-degree videos. He is a professor of Greek and has been leading tours to the Holy Land since 2005. In 2012, he discovered the power of virtual reality. "What we wanted to do was replicate the experience that people get when they are on one of our live tours," he says. "We wanted them to experience that in virtual reality."
What makes Crossland's tours so relevant for Christians is that they are almost entirely focused on the life of Jesus.
"A lot of people will go to Israel, and they will go on a normal tour," Crossland says, adding they they will even call it a "Steps of Jesus" tour. "Oh, you'll go to places that are interesting from an archaeological standpoint, or a historical or military standpoint, but you'll end up scratching your head, wondering if you're going to get any Jesus on this tour."
Crossland's tours take Christians to where they really want to go: into the footsteps of Jesus. They go to the places where Jesus walked and taught and did his miracles.
The Octagon Project is a collection of 360-degree videos from the locations you might visit on one of these tours—and so much more.
"We've traveled to over 220 different locations in Israel," Crossland says. "In all of these locations, we have literally retraced the steps of Jesus." The historian and seminary professor affirms that it's like viewing things from the "3-foot circle of Jesus."
360-Degree Ministry
When Crossland was first introduced 360-degree technology, he knew that it was the future for his ministry. He says that virtual reality (VR) is one day going to be the way people are educated and get their information.
"Billion of dollars are being spent on VR by major corporations to feed the market," Crossland says. "We knew that this is where everything is going to converge."
Crossland says he believes that visiting the Holy Land can give believers a greater understanding, and nonbelievers some things to ponder—and now they can do it virtually.
Crossland affirms that the VR format is much more engaging and will help people learn so much more. The ability to look around and see the view from all angles immerses viewers in a way that no 2D image can. This immersion creates an emotional attachment that helps with understanding and retention, Crossland says.
Additionally, Crossland says that the goal of the project is to introduce the world to the Holy Land, and he hopes that it becomes a spiritual-growth tool.
"We've had atheists watch our videos and they just want more," Crossland says, adding that the project has evangelism at its core. "This is where we want to go with the Octagon Project ultimately: to uplift the body of Christ, both spiritually and numerically."
The website offers all of the videos free of charge. You can find whole lineup of 360-degree Holy Land tours at OctagonProject.com or on the Octagon Project's YouTube channel.
The YouVerson Plan
Crossland is not alone in recognizing the powerful spiritual-growth potential of virtual reality. The team behind YouVersion has added the 360-degree tours to their popular app. The set of four tours is coupled with Scripture reading for a unique look into the events surrounding Easter.
"There aren't many people who are able to visit the historical sites mentioned in the Bible in person," says Bobby Gruenewald, founder of the YouVersion Bible app and innovation pastor at Life.Church based in Edmond, Oklahoma. "This 360-degree video allows people to virtually visit these places and feel as if they're walking the path themselves. We're thrilled to leverage technology like virtual reality to help people become more immersed in Scripture."
Gruenewald says that app users can expect to see more in the future.
"We would love to provide more content with 360-degree videos," he says. "Our mission is to help people engage with the Bible, so we are always looking for unique opportunities to help our community dive deeper into the Word. We believe offering content with 360-degree videos is just one of those unique ways."
Gruenewald says that using a VR headset and headphones will give viewers the most immersive experience—"however, what we love about The Octagon Project videos is, if you don't have a virtual reality headset, the 360-degree videos can be enjoyed from any device, no matter if it's a smartphone, tablet or computer," he says.
YouVersion is a free Bible app that available for most devices. It's one of the most widely used Bible apps and currently has been downloaded onto more than 265 million devices around the world. The app includes more than 1,500 versions of the Bible in 1,000 different languages, plus hundreds of Bible-reading plans. The Easter Story in Virtual Realty reading plan is a four-day plan and can be found here.
Jeff Chaves is a freelance writer and pastor. He has been married to Peggy for more than 32 years, and they have four children. He is the pastor of Northpointe Community Church in Las Vegas, Nevada.