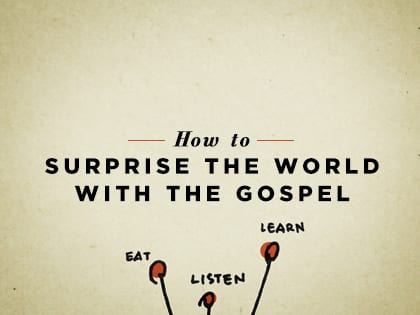 One of the beautiful things that happens to people who marinate their minds in the Gospels is that they start to talk about Jesus like he's their hero, their friend, their king.
Some years ago, I was speaking at a conference for a parachurch ministry called Christian Surfers in Australia. Christian Surfers is an awesome ministry that aims to share Jesus with young surfers. They have chapters based in beachside towns and suburbs all around the world. This conference was for their staff workers from around Australia.
During one of my sessions I asked the attendees—all hardcore surfing enthusiasts—to name their favorite surfer of all time. Now, when you ask a room full of keen surfers to name their surfing hero, the room erupts. I heard a number of different names being called out, but the name I heard the most was that of Florida surfer Kelly Slater.
I wasn't surprised. Slater has been crowned the world surfing champion a record eleven times, including five consecutive times from 1994 to 1998. He is both the youngest (at age twenty) and the oldest (at age thirty-nine) to win the title.
"Okay, okay," I called out to the excitable audience. "Let's choose Kelly Slater as our example. So, what do you all know about Kelly Slater?"
This time the room didn't just erupt, it combusted. When I asked a bunch of surfers to tell me what they knew about undoubtedly the most successful surfer in all of history, they went nuts! They were yelling and screaming facts about Slater's life—where he grew up (Cocoa Beach), what boards he uses (Channel Island surfboards), which years he won the title (too many to list here), what movies and television shows he's appeared in (too many to list here), which models and movie stars he's dated (again, too many to list here), and on and on. It was pandemonium. And it took a while to quiet them all down again.
Later in the session I was talking about our need to marinate our minds in the Gospels so we can share Jesus as the reason for the hope we have, so I asked them, "Tell me, what do you all know about Jesus?" The response this time was very different. It's not like these folks didn't know anything about Jesus. They're highly committed evangelists. In fact, they lead many young surfers to Christ every year. But the response was much more muted. Slowly, quietly, people offered things they knew about Jesus ("He's Lord," "He died for our sins," "He rose from the dead"), but these were presented as doctrinal beliefs, statements of faith. I asked them why they didn't speak about Jesus in the same way that they had just been telling me about Kelly Slater. Again, crickets.
It seems to me that this is our challenge today. As I mentioned earlier, I don't think every Christian is an evangelist, but I do think every Christian should be evangelistic. When we live questionable lives, people should see our strange behavior and ask us about our motivations. And when they do, we should be able to speak about Jesus the way surfers speak about Kelly Slater: with energy and enthusiasm, with reverence and awe, with delight and wonder.
Bless three people this week—at least one of whom is not a member of your church.
Eat with three people this week—at least one of whom is not a member of your church.
Spend at least one period of the week listening for the Spirit's voice.
Spend at least one period of the week learning Christ.
Surprise the World: The Five Habits of Highly Missional People
By Michael Frost (Tyndale, 2016)
A 2016 OUTREACH RESOURCE OF THE YEAR
Category: Evangelism
Taken from Surprise the World: The Five Habits of Highly Missional People by Michael Frost. Copyright © 2016. Used by permission of NavPress. All rights reserved. Represented by Tyndale House Publishers, Inc.
Order this book from Amazon.com »
Michael Frost is an internationally recognized Australian missiologist and one of the leading voices in the missional church movement. He is the vice principal of Morling College in Sydney, Australia, and the founding director of the Tinsley Institute, a mission study center at Morling College.