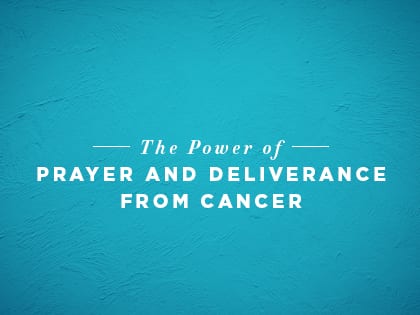 "I hate to admit it, but I was ready to give up. I had surrendered to fear. It took control of my life."
At age 42, I was diagnosed with breast cancer. I was told that I would need to undergo weeks of chemotherapy. I would lose my hair, lose weight and spend much time in the bathroom. I had been a highly successful fashion model. I was regularly in demand and could barely keep up with the number of photo shoots I was called to. It would all end. No one wanted a bald, emaciated, haggard model. At least not for fashion layouts.
To say that cancer had a profound effect on my life would be an understatement. I quickly developed the normal fears upon learning I had cancer. I had a fear of death, of pain, of suffering, of the loss of family and friends. And I was frightened of chemotherapy itself and of the ensuing surgery.
I hate to admit it, but I was ready to give up. I felt like I was diving off a cliff and the fall would be devastating. I had surrendered to fear. It took control of my life.
Out of that fear, I wanted to grab hold of something that would save me. I hadn't read the Bible in a long time. I reached for it and started reading. I read for hours. I couldn't put it down. And as I read, I could feel the fear draining out of me. Instead of fear, I was gradually filled with hope. When I put the book on my dresser, I got down on my knees and did as I had done as a child. I propped my arms on my bed and clasped my hands together in front of my face. I prayed the Lord's Prayer and then prayed for wellness. I asked God to enclose me in his love and healing and guide me back to health. My complete dependence on God became critical to me. He kept me focused on a positive future and diminished my fear. My prayer was a solemn request for help addressed to God.
I found that praying several times a day had a powerful influence on my state of mind. Prayer was like slipping into a warm and comfortable bath. It completely relaxed me. I felt all my stress and tension draining out of me. Prayer was better than any drug at lowering my level of anxiety. The repetitive nature of prayer is calming. It has a meditative quality. In fact, I found myself meditating over specific Bible verses, each one bringing me closer to God, closer to peace.
When I first received a diagnosis of cancer, I felt a complete loss of control over my life. Prayer gave me back that control, while I handed over my fears and anxieties to God. I developed a deep faith in prayer and that faith gave me courage to deal with the hardships of chemo and surgery, of recovery, and of a chance at renewal. I particularly found Psalm 16 helpful: "I keep my eyes always on the Lord. With him at my right hand, I will not be shaken."
When I told one of my doctors about the positive effect that prayer was having for me, he said that from a medical standpoint there is proof that prayer aids in healing. The power of prayer to heal has been noted on WebMD. Indeed, studies suggest that prayer can indeed help the healing process even if done by people praying for others who are ill. And knowing that others are praying for us also eases stress and creates a feeling of additional hope.
I have experienced the healing power of prayer, for it helped me to sustain a positive attitude, which, in turn, helped my body to speed the process of recovery. I can now report that after debilitating bouts of chemotherapy and two mastectomies, I am cancer free. And prayer played an important role; it was integral to the medical treatments that I received. I continue to pray and to thank God for helping me through what would have been a devastating emotional and physical ordeal.
I hope that my story encourages others to find peace and grace through prayer. It is available to all who want it, and it is one of the great gifts that God has given to us.
Christine Handy is a wife and mother living between Dallas, Texas and Miami, Florida. She is the author of Walk Beside Me (The Proper Press, 2016).