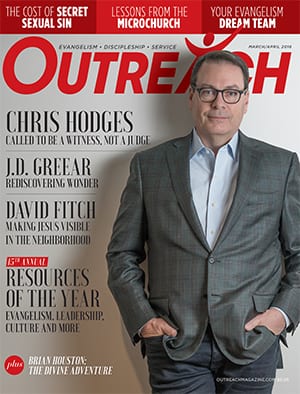 Inside the March/April 2018 Issue
Resources and Innovations
A Celebration of the Best: This issue features the 15th Annual Outreach Resources of the Year. We pause to applaud—and recommend—some of the best books on evangelism, theology, culture, the church and more. Great ideas to round out your reading list and deepen your ministry.
Chris Hodges—Room for complaint, cause for appeal: "There's a segment of Christianity that's so dogmatic, and even though they may be right technically, they are also ineffective," Chris Hodges says. "They are standing firm and winning no one." Hodges has been reading, studying and writing about the Old Testament book of Daniel and gaining new appreciation for what it takes to effectively engage a disinterested or even hostile culture. "Often, it is not reason, debate or sharing philosophies that brings a person to Christ. It is that person being startled awake." Which may involve hardship. "I often tell people, 'Hey, if you get in a situation where you feel you need God, I would love to be the first person you call.'" Hodges is convinced, "If people in our culture had a true picture of God, they would want him." Engaging words, in the March/April issue.
J.D. Greear—Why does the church so often echo the culture? "In most churches, including 'good,' 'evangelical,' 'conservative' churches, we have a lot of people who are reshaping God, thinking that their version of him is better," J.D. Greear says. It's time for a new fix on the majesty of our incomprehensible God. "'I Am Who I Am' does not mean 'I am who you want me to be,'" Greear says. "We want explanation, but God give us revelation," and faith is when "the unexplainable meets the undeniable." Which brings us to what we can grasp: "At the end of the day, that's what we get when we realize how big God is—we get Jesus."
David Fitch—Look for Jesus—He's already at work in the neighborhood. "Imagine what could happen if churches everywhere inhabited their neighborhoods with Christ's faithful presence of reconciliation. Amid domestic disputes on the block, gang fights in the local school, racist police activities on my street, we bring a concrete practice of reconciliation that begins with presence," David Fitch says, calling us to live out a "faithful presence" of the Christ who is already at work all around us. "As we become present at local tables, protest marches, every conflict in our church, with faithful presence, imagine what God might do. According to Jesus, this is how the world will change. God in Christ is reconciling the whole world to himself (2 Cor. 5:19), and we are his ambassadors."
There's much more in this issue—including: Brian Houston on The Divine Adventure; Ed Stetzer on Tech and the Kingdom; Natasha Sistrunk Robinson on What Happens When Women Remain Silent; Hugh Halter on Innovation and Replication. Plus: Ideas for Any Church, Any Size and Essential Perspectives for Those Who Lead.
Don't miss the March/April 2018 Outreach magazine. Available now.