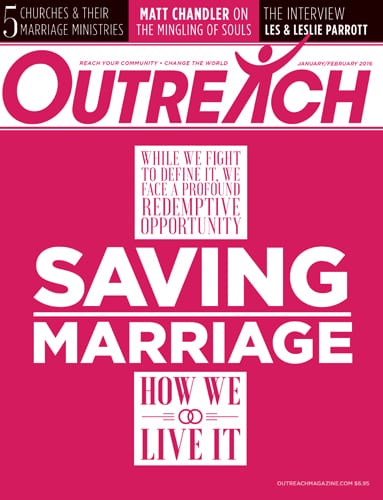 Evangelism: Influence and Invitation, plus How to Plant a Multiplying Church, Pathways to Discipleship, an Optimistic Call to Justice and Evangelism, The Hillsong Experience and the Outreach interview with J.D. Greear
Inside the Jan/Feb 2016 Issue
Saving Marriage
No other ministry investment pays such rich dividends in the life of the leader, nor releases such transformative hope in the life of the church before a watching community and skeptical culture, than this: the integrity of our marriage.
What we say has impact; faithful proclamation is not optional. But what we do validates our faith and values at the deepest level. Or calls all we say into question.
So we wondered, in the ministry of marriage, not just what are we saying, but what are we doing? What are we teaching? What are we modeling? How are we preparing people for the redemptive relationship of marriage that is intended to reflect God's relentless love for people?
And what are we preaching through the way we live it? In this issue of Outreach we profile five marriage ministry solutions from five churches; we offer a round-up of marriage ministry resources; and we sit down for a substantive conversation with Les and Leslie Parrott, co-authors of Saving Your Marriage Before It Starts and the SYMBIS premarriage assessment resources.
In this issue we also welcome several new voices to the magazine. Hugh Halter, the U.S. director for Forge America and author of the recently released Brimstone: The Art and Act of Holy Nonjudgment, launches his column, "Fleshed Out," with the reminder that "apathy, fear and comfort are the three killers of our calling." Indeed.
You will also find some new additions to the "Ideas" department. We are grateful to be partnering with the Billy Graham Center for Evangelism to help us explore concerns related to the church's mandate to be a community of Good News-sharing people. Kevin Harney, senior pastor of Shoreline Community Church and a longtime partner and friend of the magazine, gets practical with "Organic Outreach," in this issue inviting us to consider "The Inner Sanctum of the Home." And William Vanderbloemen of The Vanderbloemen Search Group brings his collected wisdom to this issue as he launches his column, "Staffing and Teams."
We're committed to bringing you tools and resources to help you elevate the place of outreach in your church and to provide a forum to discuss together the challenges and opportunities before us all. Join us in helping to frame that conversation through Facebook.com/OutreachMagazine and on Twitter, @OutreachMag.
Don't Miss
ALSO: Ed Stetzer on Marriage and Ministry; Five Critical Lessons in Church Multiplication; Bobby Gruenewald on Redeeming Technology in Your Marriage; Hugh Halter on How Our Kids Lead Us; and Much More.
Outreach magazine is available for iPad
Already a subscriber and want to access your free digital edition? Or want to purchase individual issues for iPad? Click here »