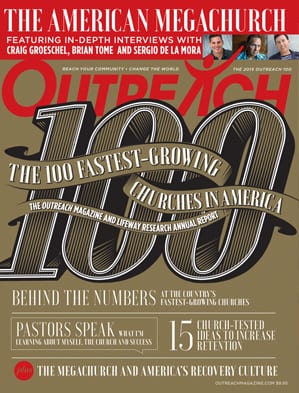 The Outreach Magazine/LifeWay Research Special Report on America's Fastest-Growing Churches, plus in-depth interviews with Craig Groeschel, Sergio De La Mora and Brian Tome; The Megachurch and America's Recovery Culture; Ideas for Retention and Much More
Inside the Outreach 100
The American Megachurch – Fastest-Growing Churches
In this issue we team with our partners at LifeWay Research to identify—and celebrate—the country's fastest-growing churches. We list fastest-growing and large churches by growth rate, size, location and denominational affiliation, but move beyond the numbers to tell the stories of churches, communities and individuals transformed by grace, as these churches bring the Good News to their cities. We also provide a platform for megachurch leaders to reflect on what they're learning about themselves, the church and a better definition of "success" than numbers alone can provide.
Beyond The Outreach 100 project itself, the issue examines the American Megachurch, this year featuring in-depth interviews with three innovative megachurch pastors: Craig Groeschel, Sergio De La Mora and Brian Tome. Ed Stetzer points to the early signs of an emerging trend: megachurches intentionally and strategically multicultural. Leadership Network's Warren Bird raises the question, "Is the Era of the Megachurch Over?" and points to numbers that offer a resounding—and to some, unexpected—answer. And 15 Outreach 100 churches discuss their strategy for retention.
The Outreach 100 is a cornerstone issue, not because it simply champions churches putting up big numbers, but because it forecasts trends shaping all churches, offers inspirational stories of the gospel's impact and delineates church-tested ideas for us all, regardless of the size of our congregation.
Don't Miss
ALSO: Ed Stetzer on the Multicultural Gigachurch; The Megachurch and America's Recovery Culture; Is the Era of the Megachurch Over? What the Numbers Tell Us; The Idea Collection: 15 Outreach 100 Churches Talk About Strategies for Retention; and Much More.
Outreach magazine is available for iPad
Already a subscriber and want to access your free digital edition? Or want to purchase individual issues for iPad? Click here »