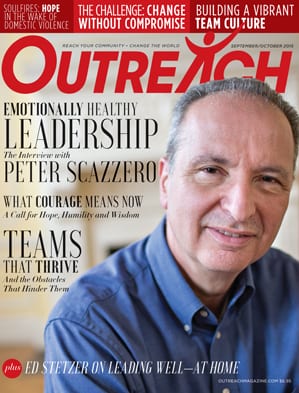 In the Sept/Oct 2015 Issue: Emotionally Healthy Leaderships, Teams That Thrive, Building a Vibrant Team, Leadership and the Culture War, Leading Well at Home and the Outreach Interview with Peter Scazzero
Inside the Sept/Oct 2015 Issue
Collaborative Leadership
What does it mean to lead together?
For the past several years we have devoted the Sept/Oct Outreach to the theme of leadership, particularly as it relates to nurturing healthy outwardly focused churches. The 2015 leadership issue continues that tradition as we examine the theme of collaborative leadership.
Co-authors Ryan T. Hartwig of Azusa Pacific University and Warren Bird of Leadership Network explore teamwork and the obstacles that hinder it, based on their book, Teams That Thrive: Five Disciplines of Collaborative Church Leadership. The article also features three profiles in collaboration, with healthy church teams discussing what it looked like for them to move beyond top-down leadership to a teaming style.
Larry Osborne of North Coast Church in Vista, Calif., draws on his book, Thriving in Babylon: Why Hope, Humility and Wisdom Matter in a Godless Culture, as he talks about church leadership in a polarized culture. What can we as pastors and leaders learn from Daniel's Babylon experience that will help us achieve balance, respect, humility, fearlessness and civility, even in a sometimes hostile culture?
The Outreach Interview taps into the wisdom and experience of Peter Scazzero, founding pastor of New Life Fellowship in Queens, N.Y., and author of The Emotionally Health Leader: How Transforming Your Inner Life Will Deeply Transform Your Church, Team and the World. He argues that effective collaborative leadership—ministry teams that thrive—are the byproduct of spiritual and emotional health. Or to put it negatively, dysfunctional leaders spawn dysfunctional teams, which is a common phenomenon. But there is a better way.
Here is an issue rich with insight, inspiration and practical guidance for the task we all aspire to: leading well.
Don't Miss
ALSO: Ed Stetzer on leading well … at home; Brad Powell on change without compromise; Bobby Gruenewald on building a vibrant team culture; church planter Bruce Wesley on interchurch partnerships to reach the city, how mentoring and ministry are reshaping seminary; and much more.
Plus, in Each Issue of Outreach
PULSE: We take the pulse of outreach today as we report on what churches are doing to connect with their communities.
IDEAS: Church-tested ideas for seasonal and targeted ministries for any church, any size … plus insight from Warren Bird, Mel McGowan, Mark DeYmaz, Brad Lomenick and Brad Powell.
COLUMNS: Perspective on outreach from Ed Stetzer, Dan Kimball, Bobby Gruenewald.
Outreach magazine is now available for iPad
Already a subscriber and want to access your free digital edition? Or want to purchase individual issues for iPad? Click here »