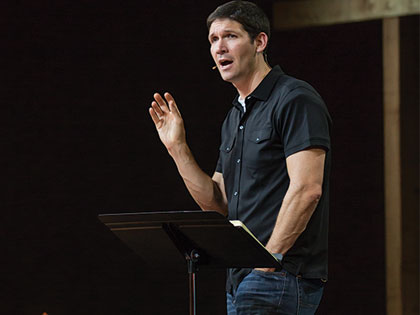 Matt Chandler: "When it's my turn to go home to glory, I'd much rather leave behind hundreds and hundreds of gospel-rich churches than just one big church where I preached."
Interview by Jessica Hanewinckel
After my conversion I immediately was an impassioned evangelist. I think God wired me this way. In college, I really began to share the gospel with the guys I was partying with, to the group I had been saved out of, if that makes any sense. Man, I felt like I was preaching the gospel, and then I would bring them to church, and they would hear about how they shouldn't go to parties and shouldn't have sex and shouldn't listen to secular music. My friends would talk with me for long periods of time about Jesus and the gospel and really a desire to want to surrender their lives, but I couldn't ever get them to quite connect to churches. I started dreaming about what it would be like to plant my own church. I was a totally naïve, ignorant 20-something. I didn't know planting was a thing, right? I really didn't know anything about assessments, about coaching, training, residencies. Man, I just didn't have any framework for that.
I started stumbling onto books about church planting and reading them. I kind of had my eyes on Austin, on the Bay Area. Then, in the middle of all of that, I was asked if I would submit my resume at Highland Village First Baptist Church. I didn't want to be at a church in the Bible Belt, I certainly didn't want to be in Dallas. And I wanted to plant; I didn't want to go to an existing church. I thought it would be too bloody. I ended up becoming the pastor of Highland Village, now known as The Village Church.
My hope was to become a type of training and sending agency that was going to be open-handed with its resources in such a way that we were able to plant hundreds, if not thousands, of churches in our run here. I said, 'OK, if I don't get to plant, then let's become kind of an outpost that trains up guys and plants with them.'
On my first day in the office, the youth minister at the time came into my office and said, 'Hey, I know when guys come into places they like to bring their own team, and so I can go to this other church. They've been kind of fishing to see if I'm interested, so I can let you bring in your own guy.' I thought it took some awareness to say something like that, so I asked him where he saw himself in 10 years, and he's like, 'Well, man, I'd really like to plant a church.' So I said, 'OK, instead of taking another youth ministry job down the road for three or four years, why don't you just spend a year or two with me? Let's learn about church planting, and why don't you be our first church plant?' We really started getting into the different networks that were out there, the different systems. It came down to who we thought was doing it best, and we were measuring that by the viability of the church three to five years after it was planted. That's how we found Acts 29.
The Village Church has planted more than 100 churches. Sometimes we'll measure granddaughter churches, and now we've got great-great-granddaughter churches that were planted by churches that we planted that planted churches that planted churches. At The Village and in Acts 29, the win isn't to plant a church. The win is to plant a church-planting church.
I think this is the way God has spread the fame of his name and the glory of the gospel since he poured out the Holy Spirit at Pentecost. The gospel spreads through people who plant churches that plant churches. I want to be right in the middle of what God is doing. When it's my turn to go home to glory, I'd much rather leave behind hundreds and hundreds of gospel-rich, Bible-believing, missionally engaging, passionately evangelizing, ferociously discipling churches than just one big church where I preached. I so would rather give myself to that end than anything else on earth. The opportunity to take on significant work, what I believe is eternal work—and maybe even the best work—when it comes to gospel ministry in the planting of healthy disciple-making, Bible-preaching churches—man, I'd give myself to that all day. I don't think there's anything more important to give myself over to. Certainly not just conferences and speaking on the circuit.
I think there's something to be said about guarding sacred times, though. From my first day here at The Village Church, I have one day a month, a Wednesday, and it's on my calendar as the day. On that day I take my Bible and my paper journal, not my iPad, not my computer. And, man, that's just me and the Lord that day. I just worship and pray and write. There's always something that needs to be done during that day. There's always something that's due in a couple weeks. But, man, I've just been really faithful to guard that day, and say, 'Nope, that's a day between me and the Lord,' because it becomes important that I know him, more than just work for him.
I think it's a good thing for men to be a bit tired, resting in the Lord, finding joy in the Lord. Man, I think bored men are dangerous things. I don't think God has designed them to be that way. But my wife holds the ace of spades, and at any point she can throw that card, and I'll get rid of whatever she wants me to get rid of. And not only that, but I've got a team who selects what I do and don't do. And those guys are very dear to me. We'll have a quarterly meeting where I sit down with my wife, my assistant and the chairman of my elder board, and we look at every opportunity that's come in, anything that's on my plate. We really just do a 360-degree review of home life, church life, Acts 29 life, anything else externally going on, and we just assess the health of it. If things aren't healthy, we just start making moves, and if it's healthy, then we want to stay.
I think the wisest thing I was taught early in ministry was to create feedback loops that you'll actually listen to. For the church planter, specifically in those first couple of years, everything's important, everything's vital, everything has to get done. So somebody needs to lovingly go, 'Yeah, brother, but man, building a church doesn't take place in six months. It takes place over years of faithful service.'
I believe that in church planting, the assessment is so huge, because you don't want to plant a brother whose home life is a wreck or who's a really crummy husband or who has some issues that have kind of followed him around. Some guys don't have degrees, but they're super diligent in study, so they're theologically informed, they're faithful to the Word of God. Some guys have a ton of education, but their theology is loose and weak, and they're far more clever than they are godly. Where you've got one, you've got one. So at Acts 29 we're huge on assessment and residency. Those are the two things we want to excel at. A29 is churches who plant churches. We're not necessarily a church-planting organization as much as we are a catalyst for global church planting. And so we want to serve churches that are planting churches.
I'm doing great now, health-wise. At five years after my bout with cancer, there's no longer any statistical data. And so I'm months away from five years. I have one more scan before I hit the five-year mark, and then after that I'm truly, I guess what Malcolm Gladwell would call, an outlier. Amen to that. But the weirdest season was the 18-19 months of high dose chemo and some of the radiation. I've never been a part of anything I couldn't push through, but there was just no pushing through that. You push through that chemo, and that would knock you down for a month. So things slowed down, but really, I just tried to surround myself with extremely gifted, godly, competent, driven men and women to execute upon tasks. I'm not a one-man show. I find it humorous at times when a 22- or 23-year-old will ask me how we're getting everything done that we're getting done, and I would say, well, it's we getting it done, not me.