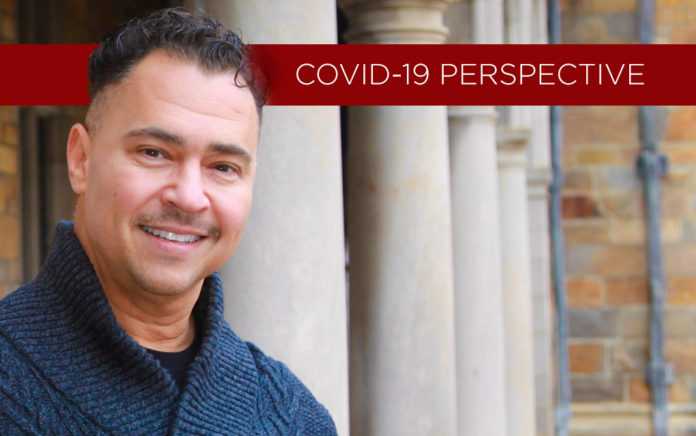 The EveryCampus Coalition is reaching out on behalf of displaced college students.
COVID-19 PERSPECTIVE: York Moore
InterVarsity USA
At the beginning of the COVID-19 outbreak, university officials wisely decided to close campuses to slow the spread of the disease. In the wake of those decisions, however, millions of young people became modern-day immigrants. Millions of students packed up a year's worth of memories in a matter of hours, in tears said goodbye to their fraternities and sororities, best friends, dorm mates, boyfriends and girlfriends, and made their way across the country and the world. These were the lucky ones. Many were stranded, primarily international students. Many students had no place to go and experienced the coronavirus pandemic literally all alone. In addition to this, ministries like InterVarsity USA, Cru, Chi Alpha, Baptist Collegiate Ministries and the CCO prematurely ended Bible studies, evangelistic events, conferences, and discipleship appointments. The end of the college year in such an abrupt way was devastating to organizations, ministers and college students.
Thankfully, God has been growing a new movement among churches, denominations and parachurch organizations over the last two years—the EveryCampus Coalition. EveryCampus has been made possible through the willingness of leaders to try something together they could never do by themselves. EveryCampus was started in an effort to spark revival in America through prayer walking every single campus in the U.S. and then to plant gospel movements and churches on the unreached and underserved campuses (about 60%).
EveryCampus has exploded now to over 150 organizations, churches, denominations, megachurches and church networks, meaningfully collaborating through a rich technology platform powered by Gloo, a cutting edge research initiative as a part of the State of the Church project at Barna, and dynamic partnerships between leaders seeking God for revival in America.
As the school year has come to a premature end due to COVID-19, the EveryCampus platform has shifted to a "virtual prayer walking" initiative for the remaining 1,000 campuses needing prayer. As many of the campuses have shifted to virtual instruction, EveryCampus has created a guide on how to do virtual prayer walks of every single campus in the country—all 4,200+ of them—so that the everyone in the body of Christ can participate in praying for revival in America. Ministries and churches engaging with college students in these past months have moved to virtual everything—large gatherings, prayer meetings, Bible studies, small groups and discipleship. The response has been incredible with many coming to Christ and joining Christian groups for the first time.
You can visit EveryCampus (EveryCampus.com) to identify the campuses near you, and follow the prompts to participate in a virtual prayer walk.
For pastors, a final word to our churches regarding college students: As in many sectors of our society, the impact of our health crisis will leave scars, many of which will not be immediately visible. Before COVID-19, many students on our college campuses were struggling with isolation, fear, loneliness and depression. The displacement and disruption of our health crisis will almost certainly accelerate this for our young people. Please consider your church's response this summer in caring for the emotional health of college students as they await return to college, hopefully, this fall.
Read more from R. York Moore »
Read more COVID-19 Perspectives from pastors and church leaders.