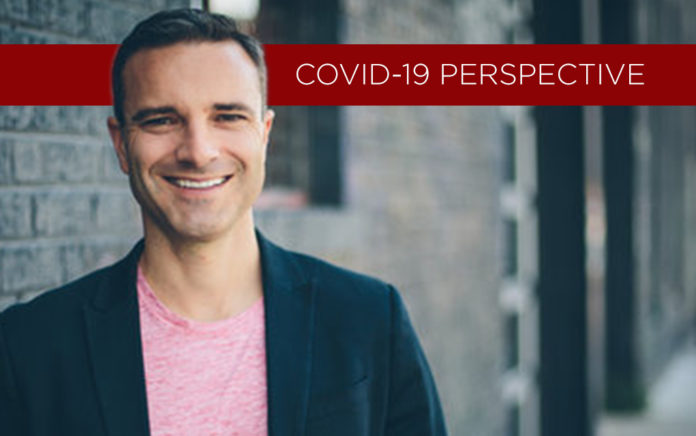 How do we answer the tough questions people in our world are asking right now?
COVID-19 PERSPECTIVE: Craig Springer
Alpha USA
How could a good and loving God allow a pandemic to sweep across our planet? How could a gracious God allow thousands to die, many hundreds of thousands to lose their jobs and livelihoods and the rest live in fear, anxiety and crippling depression? What relevance does the church, God's people, have in a time like this?
We have many options for answering these questions.
The first and obvious answer should be, we are the hands and feet of Christ. We must show through our actions that we believe our faith is not only true but that it is good. This is a time to show the fruit of our faith, not just the facts. This is a time to sharpen our character and display the fruit of the Spirit in every interaction—you know, love, joy, peace, patience, kindness, goodness. And to show the fruitful acts of our faith—caring for the poor, the sick, the needy, the marginalized.
But what about our words? To fulfill the Great Commission in our time we have to know what words to speak and when to speak them? So how do we answer the questions that are resonating on the lips and in the hearts of our freshly hurting world?
We can and must return to Jesus' way of responding to questions.
Jesus asked 307 questions.
He was asked 183 questions.
Jesus directly answered eight questions. (Some scholars argue that he only directly answers three.)
What?! Jesus was almost 40 times more likely to answer a question by drawing someone else out in conversation? Jesus asked 40 times more questions than he provided answers. Jesus listened.
This is a profoundly different type of evangelism than most of our churches engage in. We proclaim. And rightly so. We proclaim every week with one-directional speaker systems in our church services or more recently in our online-only church platforms. We proclaim in one-on-one evangelistic conversations or FaceTime calls. We can and must proclaim—"How will they hear unless we tell them?" (Rom. 10:14).
But where do people go with their questions? Have we created space to absorb the pain behind the questions? Have we created outlets for our disoriented friends, neighbors and communities to wrestle with questions that have no quick and easy answer? Have we created space for more than just proclamation; for conversation?
As we were jettisoned into a new world order this spring, churches did a phenomenal job of pivoting church services online and serving communities in need as best we could. Still, the only front door for those outside of our church was to a proclamation-only church content feed, or in some cases, preexisting Christian small groups and Bible studies.
Where do those outside the church go with their questions? What front door or virtual portal can they walk through to be heard? What space did we create, as Jesus did, for outsiders exploring faith where people are listened to 40 times more than they were spoken at?
Remember this, from David Augsburger? "Being heard is so close to being loved that to the average person they are almost indistinguishable."
When the pandemic hit with full force, gatherings were shut down and people everywhere were isolated, thousands of churches created more than just proclamation portals: they created space for conversation, for listening, for the "outsiders." And God showed up.
Many churches turned their Alpha course into an online experience. They showed the multiweek film series online and gathered groups of non-Christians virtually for conversation about the big questions of life and faith. The Alpha course allows people to learn the basics of the Christian faith in a compelling series of short films over a few weeks, and the group hosts are Christians trained to listen 40 times more than they speak; to ask question after question rather than provide quick and direct answers. This allows the non-Christian to move from their head-only questions and into their heart, over time and in the context of community. And undoubtedly, with this space, time and belonging combined with the truth in the content, people say yes to Jesus. Barna reports that 82% of non-Christians who complete the Alpha course say yes to Jesus.
Churches across the globe hosted these online Alpha groups throughout the lock downs. Friends invited friends. Family members invited family members. Neighbors invited neighbors. Some churches sent baked goods or even full dinners through meal delivery services to guests in their groups just in time for the online meetup. (Alpha courses in person always provide great hospitality.)
One person at Mission Church in Illinois started inviting his college friends from around the country to explore Jesus during his online Alpha group because, why not? One person at Echo church in San Jose, California, brought her mom into her online Alpha group because her mom was too tentative to ever show up in person. One person at Church of the City in Manhattan invited her co-workers who were trapped at home to explore faith with her during their online Alpha. She was too reticent to invite them in person, but when the pandemic hit it made sense to just make the invite. And they are each on the journey towards Jesus.
As we imagine a life where in person gatherings and brick and mortar buildings are all at-risk within a moment's notice, we must reimagine evangelism. Have we created space for heart-to-heart conversation, or only recreated content delivery systems of proclamation?
The way of Jesus prioritizes listening. The way of Jesus creates space for conversation. The way of Jesus carves out a new front door for outsiders to walk into (or click into) where they will be heard and can begin journeying with him.