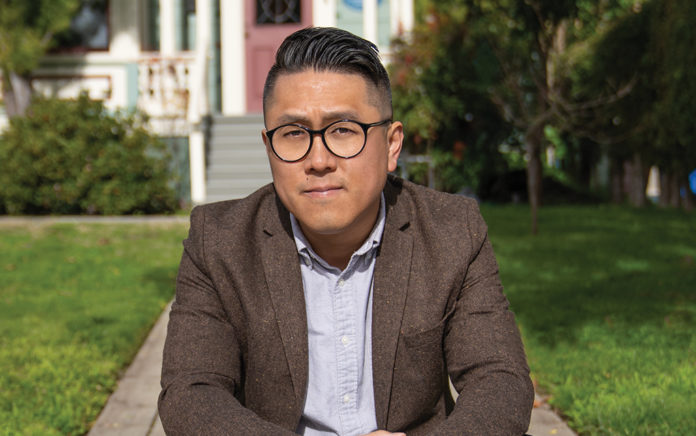 The life of following Jesus is communal.
Jay Y. Kim is pastor of teaching and leadership at Vintage Faith Church in Santa Cruz, Calif. He also serves on the core leadership team of the ReGeneration Project and cohosts the ReGeneration Podcast. He is the author of Analog Church: Why We Need Real People, Places, and Things in the Digital Age (IVP). We caught up with him to discuss leadership and Christian community during the pandemic.
In the midst of social distancing due to the novel coronavirus pandemic, the church needs to pay attention to how this disruption is actually tapping into something we take for granted in the digital age: that deep desire to be an embodied presence with one another. When showing up is a very accessible option, we take it for granted. But I think we're beginning to see that because everybody is hunkered down in their homes, even though we have way more digital tools to help us stay connected than ever before in human history, the fact remains, everybody is living with this strange sort of inner angst that we can't be together. This is a very important moment in which we find ourselves.
We have to be led by our love of neighbor and working toward the common good. Esau McCaulley, a Wheaton College professor, recently wrote a piece in The New York Times saying that right now, what that means for the follower of Jesus is to contribute to the common good through our absence rather than our presence. I think that's right, but beyond that, we should really pay attention to the fact that our absence from one another doesn't feel right and we are longing for the day when we're able to more freely be together. The irony of it is, here I am, helping to serve and lead in a local church, and birthed out of our community, I'm releasing this book called Analog Church. Yet out of necessity we've gone totally digital.
I think while digital connection isn't embodied presence, it can certainly inform and even inspire. So that's what we're going to try to do as much as we can until we can someday, hopefully soon, be together in person and go about the work of transformation, shoulder to shoulder.
We're doing what most churches are doing. We have a plan now where we're going to create regular, consistent gathering spaces online. Every day except Saturday, we'll be online on our Facebook Live page. We're trying to at least give it an analog flavor by livestreaming rather than just prerecording everything and then posting it on our YouTube or Vimeo page. We're asking our church to meet us in real time, even if it can't be real space. We're using Zoom quite a bit for all of our small groups. We're encouraging everybody to bring bread and juice to our Sunday gatherings on Facebook Live so we can take communion together across the screen.
The digital age is built on three key values: speed, choice and individualism. Because those values gone unchecked and uncontrolled, they've turned vicious. Speed has made us incredibly impatient, the plethora of choices has made us incredibly shallow, and individualism has actually made us incredibly isolated. But we're in a moment now where I'm beginning to see people use these digital tools to counteract those realities. Small groups in our church have been using Zoom to meet. Typically when we chat with one another digitally, it's all about efficiency. We're just trying to get in and get out, right? But one of our college young adult small groups was on their Zoom call for over four hours because they just didn't want to leave. They miss each other. That's incredibly patient, right? And the conversation went really deep, and of course it's not isolated. There were around 10 people on it. Really beautiful stuff. So I'm really encouraged to see more and more stuff like that happening. It's not just our church. As I look online, it feels like the landscape of the local church is starting to lean in that direction, and it's really exciting to see all the creative and inventive ways in which church leaders are leaning into the tools we have.
A lot of people are asking if no one will ever show up to a physical building again after this is over, because they realize they can just go digital and watch online. Some people think that's where we're headed, and I could be wrong but I have a very strong sense that the exact opposite is going to happen. I think that during this time, we're going to understand something that is innately human: we are embodied people who need other embodied people. The life of following Jesus is communal. It's a participatory one where, when we gather together shoulder to shoulder and do life with one another in that way, we collectively become the people of God he has always dreamt of us becoming. I think it's already happening, and I think it's going to happen even more as we trek into the coming weeks and months. So I actually am really hopeful that we are going to come out of this where the church is clamoring to get back together.
In this season where everyone is going digital, some older, smaller or more traditional churches don't use the internet. They don't have tablets or laptops. When we're required to shelter in place, the pastor or anybody else in these churches can't physically visit. That would be unsafe and irresponsible. For those church leaders, let's leverage the technology we can that is accessible to older congregants that keeps us, at least for this moment, the appropriate amount of physical distance away. So pick up the phone and call each other.
In the modern, Western, evangelical world, we think of pastors as big personality, charismatic men and women who stand up on giant stages that are brightly lit, and they give 40-minute monologues and we're enthralled and inspired, and we walk away. Biblically speaking, the very idea of pastoring is actually totally different. It's about shepherding people. If you are a pastor in America today, that typically means you don't do a lot of biblical pastoring. That's true for me. Most of my job is actually creating sermons and then delivering those sermons in front of lots of people on stage. That's not biblical pastoring. So actually, right now might be a really important moment for, people like me to be convicted and then to return to the core essence of what I'm called to do as a pastor: to reach out and call and pray for and listen to and come alongside those who are especially hurting or vulnerable or anxious or scared in this time.
For those small-church pastors whose day to day work up to this point has always looked like what so many of us are going to have to adjust to now, I would say, man, this is your moment. Teach us. Keep doing what you do so well. If you have angst that you don't do the digital thing well so you're going to get left behind, I would say that actually you might be able to lead the way here, because you pastor in the most human, in the most biblical way, on a daily basis. That's what we're all going to have get back to. So just do that. If you can't livestream, or if your people don't know how to access that, then of course it's less efficient to make phone calls all day, but that may be the most effective way to minister to and pastor and shepherd your people right now.
The most helpful thing for me is that I feel like in this season we're finally putting digital tools in their rightful place, where they're no longer controlling us, but we're leveraging the tools to accentuate the things that are most human about us: Our desire and longing to be with one another, to connect as much as possible in this time while we're apart.