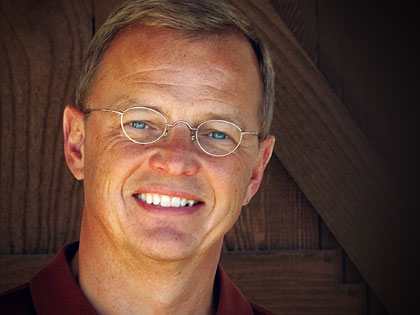 "Macromanage from a clear mission, vision, values and plan, and you don't have to wear yourself out micromanaging."
Randy Frazee Senior Minister
Oak Hills Church San Antonio, Texas
A 2013 Outreach 100 Church
TURNING POINTS
I took over the senior pastor role from Max Lucado in 2008. He has stayed on as a teaching pastor, and we enjoy one of the most life-giving arrangements I know of anywhere. The first year I was in this role we launched an idea I had called "The Story" (a 31-week journey through the story of the Bible). I taught the Old Testament, and Max taught the New Testament. We grew 23 percent through my first ministry season. Later, the elders confessed they were expecting as much as a 10- to 15-percent drop in attendance the first year after Max stepped down. I attribute this turning point to people's passion, not just believers but seekers, to engage the grand story of God's word.
MEASURING SUCCESS
We have several indicators of success. One unique measure of our success is the number of neighborhoods in our city where we have a "missional group" committed to belong, grow and serve together in that space and beyond. We have 3,000 neighborhoods and 800 apartment communities. Ultimate success would be to have the presence of Christ in every single neighborhood and apartment community in our city. We are working toward another measure that gauges where our congregation is spiritually against 30 indicators. We hope to have this operational in a year.
GETTING DOWN TO WORK
Macromanage from a clear mission, vision, values and plan, and you don't have to wear yourself out micromanaging. You draw exceptional people to the team through a clear vision; you run off your best people through micromanaging.
Work takes all the time allotted to it. If you set no boundaries, you will become a workaholic. I plan a set amount of priority work to get done for the day by a certain time. When it is done, I put my work down for the day—never later than 6 p.m.
I separate my creative work (writing, sermon prep, vision thinking) from my administrative work (meetings, answering emails). For example, I work all day Monday on creative and all day Tuesday on administrative. Administrative work is always easier to check off the list, but in my role it is seldom more important than my creative work.
OAK HILLS CHURCH San Antonio, Texas
Website: OakHillsChurch.com
Twitter: @RandyFrazee
Founded: 1958
Affiliation: Nondenominational
Locations: 5
Attendance: 8,663
Largest: 56