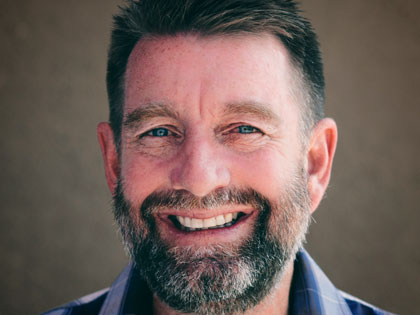 "As a result of our 24/7 movement, the passion to know God deeper is sky high!"
Chuck Booher Senior Pastor
Crossroads Christian Church Corona, Calif.
A 2013 Outreach 100 Church
TURNING POINTS
On Oct. 11, 2011, we made a concrete and intentional call to commitment in our church. We called our entire congregation to commit to being a church that truly loves Jesus with all of their heart, mind and soul; we could no longer stand for people to be lukewarm. Our goal was for every member of Crossroads Church to have a 24/7 commitment to Christ based on love. We witnessed hundreds leave and thousands come as we instituted this. God has truly blessed our church since then, and we have seen lives radically transformed! As a result of our 24/7 movement, the passion to know God deeper is sky high!
MEASURING SUCCESS
The success of a ministry can be measured by the passionate commitment of the people. Are they passionately committed to Christ, his cause and his community? The overall goal is to reach people for Jesus! Success is found when the people within the ministry are experiencing true intimacy with God every day by being in his word and prayer. As a result, these people are used by God to reach others to experience the same transformative, wondrous and awakened relationship. The more you become like Jesus, the more you leak Jesus. You cannot truly be in relation with the Father if you do not draw people to him. As a church we measure how many people we are reaching for Christ and if they are being baptized. We measure how many are involved in ministry and volunteering to serve in outreach groups. We measure how many are truly tithing.
GETTING DOWN TO WORK
Studying God's Word is exigent! Also, meeting with my team tremendously helps me in communicating what God has for our church. My goal is to be more than a month ahead in completing my sermons. This is how it works: I study Monday and Tuesday and very intensely on Wednesday morning. On Wednesday afternoon I sit with a team of three people in my office and preach a sermon. They provide honest feedback and aid me to enhance the sermon. Based on their input, I edit the sermon and send the notes to all of our pastors. On the Thursday before the weekend I will deliver the message, I preach the sermon again to a team of 10-15 people. They also provide honest feedback. On Thursday night and on Friday, I edit it one last time and send it to the rest of the team who needs it for our weekend services. After the Saturday night service, I meet with a team one more time to evaluate the message and see if I need to alter anything for the Sunday morning services.
CROSSROADS CHRISTIAN CHURCH Corona, Calif.
Website: CrossroadsChurch.com
Twitter: @ChuckBooher
Founded: 1892
Affiliation: Independent Christian
Locations: 1
Attendance: 8,375
Growth in 2012: +1,114 (15%)
Fastest-Growing: 46
Largest: 57