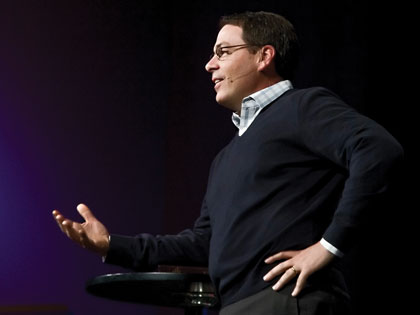 "[God] is not trying to build a large institution on earth; He's trying to rescue people for eternity's sake."
As long as there is a heaven and there is a hell, [church] growth is not an option. You're not growing in order to be larger, you're growing because heaven and hell are realities. That's why [the Great Commission] is so important to me—and why it's so important to God. He's not trying to build a large institution on earth; He's trying to rescue people for eternity's sake.
You have to have [this] objective, so your church knows why it exists. You're not going to be good at reaching people and you're not going to be good at growing if that has never become a stated objective. I still personally lead a membership class. Every new member is hearing from me personally, and that's one of the first things I tell them: "If you're looking for a church that is just for you to meet your needs, you're gonna hate it here." We say, "We don't exist for the people that are here. We exist for the people who are not here yet."
Everything from the parking lot to the experience in the auditorium has been put through the filter of, "How is this experience for the first-time visitor or a person who doesn't know God?" We just rewrote our worship guide. After we wrote it, I had our team share it with people who don't go to our church and who don't know God. We're constantly putting things through the filter of, "Do they get it?"
[Churches] have to find models that work. Usually, it takes relational coaching. We're working right now with 1,000 churches that have under 1,000 in attendance. We're discovering that they need someone on the outside taking a look at it because you can get so close to your own thing, you can't even tell. Most of the pastors, if you ask them why it's not [growing], the answer they give is not the right answer.
We say, "Do three things: Clarify your vision, measure how you're doing and then get better." How we get better is we learn from models that work. My children's pastor, I can ask her, "Who are your learning from?" She can tell me three people who do children's ministry better than us that she's learning from right now.
We've had almost every church [we're coaching] see at least 30 percent growth once they've had someone helping them. Some have had 300 or 400 percent growth in a year. Sometimes there were just little tweaks.
—As told to Nadra Kareem Nittle