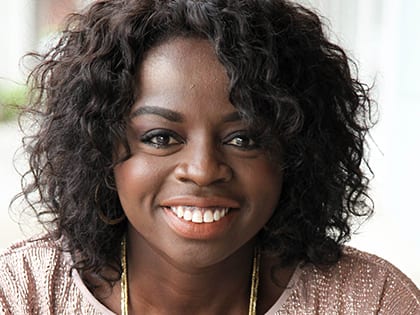 The Church's Role in Healing Broken Identities and Overcoming Injustice
Jo Saxton's journey toward her God-given identity has been long and winding. Today, she's a popular leadership trainer; international speaker; author; podcast host; board chair of 3DMovements, an international discipleship organization; and board member for Today's Christian Woman. But her titles aren't her identity.
Saxton began life in the U.K., the child of Nigerian immigrants. She wasn't raised in the church, she spent time in foster care before being reunited with her mother and large extended family, and she grew up without her father. Then she found Jesus as a teen, became a church leader and immigrated to the U.S. as a newlywed. Despite the brokenness in her life, she identifies as a Christ follower and a daughter of the King, worthy and treasured in his eyes.
That's why her new book, The Dream of You: Let Go of Broken Identities and Live the Life You Were Made For (WaterBrook), is both personal and universally applicable. Saxton wrote the book for women, but the truths she unpacks are valuable to both men and women who seek to embrace their God-given identity. And her insights are valuable to church leaders who want to catalyze the kind of churchwide change and individual identity transformation Saxton writes about.
You've experienced many hurdles and have often been "the minority" in your spaces. How did you overcome that to become the influencer you are today?
There were people who helped me get past the past—mentors or proper counselors. And having community that didn't tolerate me but celebrated me mattered. I wasn't being treated as the token ethnicity; they were interested in who I was and where I was from. They recognized that I, like anybody else, was made in the image of God, so they assumed I had gifts and potential.
I was really blessed, particularly in my late teens and 20s, to be in an environment where people saw things I didn't even see in myself and were willing to invest in me. But they weren't trying to make me into a version of themselves. They were saying, "OK, what has God placed in you, and how can we draw it out of you?" People would literally sacrifice their own opportunities so I could have them, because they believed women should lead and people of color should be given opportunities and have things to say.
In the book, you describe a time when you were around age 7 and racial tensions were high around London, where you lived, especially among black Londoners and the police. The women in your family gave you "The Talk": Because you were a black female, you'd have to work extra hard at everything you did just to prove your worth. That affected your identity for a long time. How could the local church have helped shape you for the better amid of all of that? And since we're seeing similar social issues today in the U.S., how can the church participate in reconciliation here?
Wherever there is injustice, the church needs to be salt and light. As Christians, we have a responsibility to ask what systemic inequities exist and to see what we're doing about them. We're meant to run toward the darkness with light rather than hide on a hill and hope someone sees something from a distance. It's about modeling a different way of being and doing. We talk about Jesus turning the tables on injustice. Well, let's follow his example. Salt doesn't have any impact until it's interacting with something. It brings out the flavor. What flavor can the church bring out?
When someone is in pain, do we hear their lament? I think it's ironic that the Bible has so much to say about lament, and I don't know that we always give space for that. Often, I think, we try to cover it. We say, "There, there, there," or "Let's make it better." Someone is dying, and just because it's out of your reach doesn't mean it's any less real. That's an opportunity and a kingdom responsibility for the church.
There are many church leaders of color who have gone through those experiences, and I would suggest those in the majority culture take the initiative of building a relationship with someone of another ethnicity and asking, "Can I hear you?" and taking the time to listen. Without those stories, all we have are assumptions. And even our good assumptions can be limited.
How could church leaders set better examples for people like you, who grew up feeling like you didn't have role models in the church? How can the church allow those young people to see themselves in the people leading them, and understand that they're seen, known and loved as children of God?
Honestly, as a young person, I always found it very hard to talk to people in churches of another race, because I think people wanted to do something before they wanted to listen to me. We can start by listening without trying to fix. We can hold space for someone's pain.
In my time as a child and a teenager, if you wanted to talk to me about race, I'd first want to know if you had a black friend. Otherwise, why would I retraumatize myself? I don't mean that as a criticism. I just mean that to advocate for them. These young people are so vulnerable to be in a position where they're marginalized, abused or rejected for the color of their skin. It's scary. And I don't know if anybody's asked me how it was to feel afraid walking down the street next to someone shouting the "N" word at me or spitting on me, both of which have happened. I'm not asking you to fix that, but I would like you to be there, to hear and to sit with the discomfort and the pain. I think if we try to fix something without hearing the whole story, we're really not going to fix it at all.
In Part 2 of the interview, Jo Saxton discusses how church leaders can foster authentic communities, overcome their identity struggles and help people understand who they are in Christ. Find it at OutreachMagazine.com/Jo-Saxton.