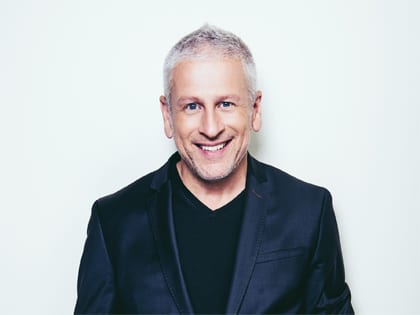 "Leading yourself requires humility, and humility comes from being with Jesus."
Asking, "How do I lead myself?" or, "How can any church leader more effectively lead themselves?" really leads to a bigger question: "Am I growing and moving forward?"
We so often get focused on trying to lead others, trying to lead a cause, trying to accomplish a goal, or arrive at a destination, or move the needle forward globally or locally in some way—that we forget that the work that God has really committed to in our lives is to complete us, to perfect us, to—as Paul says—conform us to the image of Jesus.
That's really my purpose on Earth: to know God and to be conformed to the image of Christ. If those two things happen, all the ancillary things that we talk about—influence, changing culture, bringing people to know Jesus, being a light in dark places—all of that happens if you're being conformed to the image of Jesus.
If I lose sight of that for the immediate, tangible goals of the church or organization, then I'm going to wake up one day and realize that maybe I did all those organizational things, reached all those objectives, checked all the boxes, saw great things accomplished … but I'm still the same person I was four years ago or five years ago.
Leading yourself requires humility, and humility comes from being with Jesus. I say this all the time: Humility is a byproduct of being with Jesus; it's not a character trait to be developed.
Leading yourself also requires self-awareness, and self-awareness is a weak spot for a lot of leaders because they've lost touch with who they are, and no one can tell them anything anymore. They've insulated or isolated themselves from everybody who loves them and cares about them enough to actually help them be self-aware.
I think humility and self-awareness lead us to a point of realizing that we're not there yet, we're not fully mature yet, we haven't arrived yet and we're still in that process of letting God change us, transform us, refine us and conform us to the likeness of Jesus.
I say this organizationally, but it's also true personally: We have to take the responsibility for leading ourselves. To have a mentor is a part of it. To take personal responsibility for doing the kinds of things that foster growth—not only intellectually, but spiritually, physically and emotionally—is what I'm trying to stay focused on.
So we really have to develop more self-awareness: How am I doing? How do I feel? What modifications, changes, additions or subtractions do I need to make so that mentally, intellectually, emotionally, spiritually and physically I'm actually growing? And then we take the steps to do just that.
Louie Giglio is the pastor of Passion City Church in Atlanta and the founder of the Passion movement, which exists to call a generation to leverage their lives for the fame of Jesus. His latest book is Goliath Must Fall: Winning the Battle Against Your Giants (Thomas Nelson, 2017).