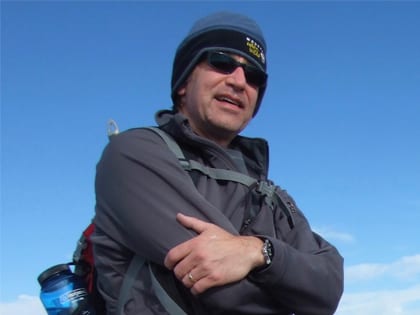 "Salvation is best understood as a kind of belonging. I can't work out my salvation alone."
It could be that the greatest challenge of leadership is corralling that most unruly and unpredictable of spirits—our own. Leading with integrity begins here, and the greatest challenges that threaten to trip us up and imperil our influence are likewise internal—issues of the heart.
We spoke with six very different leaders, each with diverse backgrounds and experiences but with a shared passion to lead well—and a willingness to be candid—to help us get at leadership's fundamental question: "How do I lead myself?"
At the age of 45, I woke up and asked, "How did I get here?" I think part of what happened then in 2004 is I wanted to become myself before it was too late. I recognized if I weren't careful, I would end up being a religious entrepreneur focused on marketing, client acquisition and customer satisfaction. I reached a point where I was profoundly disillusioned with the kind of Christianity I was experiencing and, as a senior pastor, participating in and reproducing.
It's like I woke up one morning and realized I got on the wrong bus. For all of the energy in our church, it didn't seem very revolutionary. It seemed like American culture with a Jesus fish slapped on it.
I think we are far too narrow in our understanding of repentance. The word from the French means "to think." I was seriously ready to rethink a lot of things. I repented.
Meditation on the cross is not a path to success in the American way of thinking. Success is determined outwardly, primarily through numbers, rather than being properly formed. I often replace the word "lead" with "form." The cross became that which I wanted to be formed into. Could my posture in this world be a more crucified life rather than a consuming one? It sounds very ambitious and heroic, but I don't mean it like that.
When we talk about God, the ultimate transcendence, we have no recourse available than to use metaphor. If you literalize a metaphor you create an idol. That is something I couldn't have said earlier in my life.
The body of Christ is expressed in a number of eclectic streams of expression. By eclectic, I mean I have been able to experience the diverse body of Christ and find nothing but nourishment and enrichment.
Individualism is a particular pathology of the American church. The Desert Fathers had a saying, "One Christian is no Christian." When Jesus talks about salvation, he talks about the kingdom of God. Salvation is best understood as a kind of belonging. I can't work out my salvation alone. I do that with other people in an open and vulnerable community.
Often, pastors say to me, "I admire your courage." I understand the compliment, but what I want to tell them is that I was terrified every moment. I asked myself, "Will I lose my life's work?" and, "Would I be willing to do that?" Those questions took me back to the cross.
I have become more self-aware through contemplative and liturgical prayers. I began to realize that I shouldn't leave all the praying to myself. I needed to trust liturgies of prayer far wiser than mine. Those kinds of prayers form me by asking, "Do you want to continue to be that way?" All real change requires awareness. Being self-aware is when you come to see yourself as self-absorbed. The self-absorbed person is never self-aware.
I am not as driven or ambitious as I used to be. I don't evaluate success by the American metrics of numbers and offerings. I see myself much more pastoral. I am not much of a religious CEO, that's for sure. I am trying to serve as a spiritual director.
Read more Profiles in Leadership »
Brian Zahnd is the founder and lead pastor of Word of Life Church in St. Joseph, Missouri. He is a passionate reader of theology and philosophy and the author of a number of books, including Water to Wine: Some of My Story (Spello Press, 2016) and Sinners in the Hands of a Loving God: The Scandalous Truth of the Very Good News (WaterBrook, 2017).