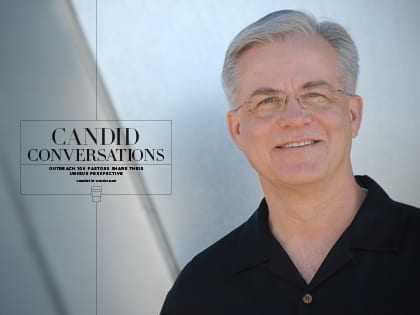 "I am having more fun pastoring today than I have ever had before."
Each year, we speak with several Outreach 100 pastors in an effort to collect their honest observations about the church, their ministries and their experiences.
STEVE STROOPE
Lake Pointe Church in Rockwall, Texas
I am having more fun pastoring today than I have ever had before. I don't really see it as high stress. If there is any key to both safeguarding and spiritual development, it is the people in your life. It is great family connections and great friends who love you enough to tell you the truth.
The influencers in my life are too numerous to name. Some of them have been mentors, but many of them were writers who influenced my insights and my ideas through the written page.
What I have learned about criticism is "consider the source." The people who know the most about you and who love you the most deserve a greater consideration of their criticism. However, I have found there is usually a seed of truth even in the criticisms of your harshest critics. When it comes to praise, it's the flip side of criticism. You should give it the same weight that you give constructive criticism—and also as you do with criticism, discern the credibility of the source.
What concerns me is the tendency of certain groups to see themselves as the spiritually elite—that somehow they have the best method, or the only theology, or the superior model, and a spirit of disdain for the remaining body of Christ—which makes them critical and in the process divides us.
I am most excited about young church planters who are going to the hardest places—spiritual wastelands—and are planting vibrant flagship churches that have a vision for planting and mentoring other churches in that region. God is raising up an amazing crop of young leaders.
The core of the American church experience really hasn't changed at all. The gospel still changes lives and small groups are still where the best discipleship takes place and relational evangelism—one person telling another person about Jesus—is still the best strategy for reaching people and has been the same since the early church.
Read more Candid Conversations with Outreach 100 pastors »
LAKE POINTE CHURCH
Rockwall, Texas
Twitter: @SteveStroope
Website: LakePointe.org
Founded: 1979
Affiliation: Southern Baptist
Locations: 9
A 2016 OUTREACH 100 CHURCH
Attendance: 12,185
Growth in 2015: +1,286 (12%)
Fastest-Growing: 53
Largest: 28