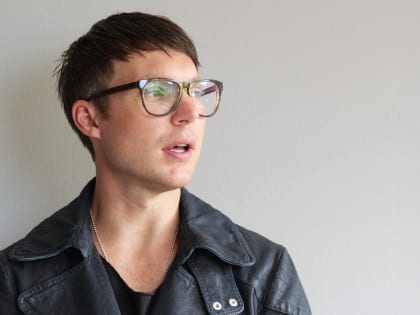 "I was 11 and had this profound sense in my soul that God said, 'You are going to be a speaker to your generation.'"
Interview by Rob Wilkins
Five years before planting City Church in Seattle, long-time youth pastor Wendell Smith launches a tour of seminars and brings along his family of four for who knew how many years?
"My father decides to travel and do a series of two-day seminars called Dragon Players," his son, Judah, remembers. "It's about purpose, vision and destiny. Our family motto was 'what we do, we do together' and there was always the sense that I was getting to live the adventure of a lifetime."
In the blur of plane flights, endless car drives, homeschooling, a spin cycle of hotels and host homes, Judah enthralls in the consistently singular moment of watching his dad on stage. He mouths word for word his father's message until, on cue near the end, he rises to the stage when his father calls.
Between the ages of 8 to 13, in front of thousands, the script always played out the same. Judah gives the exact same testimony of nearly dying three times during his first year on the planet, ending by telling a cheering audience that each person possesses a destiny.
Judah's father then asks his son, 'What do you want to be?' and Judah answers, 'A pastor.'
Allowing for comic timing, he adds. 'And I want to be better than you.' In the ears of both father and son, the laughter never ceases to please.
* * * * *
While serving as youth pastor for City Church, living his dream, Judah Smith stands next to his best friend on a spectacularly sunny day, the smell of the Pacific in blue air. The wedding photographer captures him as best man smiling with the groom when Judah's cellphone rings.
"On one of the happiest days of my life, I step away from the wedding photos, and my dad tells me they found cancer."
Immediately, tears overwhelm Judah. "My dad was not only my hero but also one of my best friends. I don't remember a day in my life when I did not talk to my dad."
A year before his death at the age of 60, Wendell Smith hands the leadership of City Church to his son, Judah. At the center of leading the church to one of the fastest growing churches in the nation resides Judah's story, one defined largely by the love of two fathers.
You are a pastor's kid?
I come from a long line of preachers. As far as we can tell, I am a seventh generation preacher. It goes way back to a circuit riding woman minister who rode on horseback. I have to say that I have had a love affair with the church my entire life and I feel like it's the best place on the planet.
So you never experienced PK syndrome?
You know, for me it was pretty much pure enjoyment. I know that sounds odd and maybe not even honest, but I am 35 years old and I have never ever had someone approach me and say one critical thing about my mom and dad's faith. Our church has been in existence for over 20 years and [my parents] never brought home gossip or negativity or church issues. Life was fun; it was sports; it was loving Jesus, and the youth ministry.
Were your parents church planters?
City Church was the only church they planted; they were on staff before that for one church in Portland. We had traveled as a family full-time for five years before they planted a church. My dad was a longtime youth pastor for nearly 20 years and he decided to do a series of two-day seminars, so we were on the road for five years.