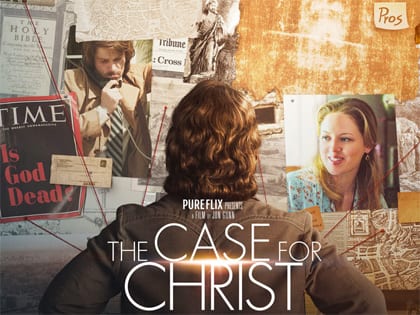 The Case for Christ, the feature film based on Lee Strobel's best-selling book of the same name—which received a rare A+ CinemaScore—drew $3.9 million in the box office in its opening weekend, ranking in the weekend's top-10 films.
With that strong showing, producers are expanding the film to approximately 1,600 theaters nationwide this weekend, a 40 percent jump.
The film traces Strobel's true story as an award-winning investigative journalist—and determined atheist—who set out to disprove his wife's newfound Christian faith.
"It's a love story and a thriller-detective film," Strobel says. "I'm delighted it resonated with audiences and opened so strong."
Don't miss this exclusive four-part interview with Lee Strobel on the film, apologetics and the search for truth »
"The Case for Christ offers an honest and compelling look at the reliability of the resurrection through the eyes of a man desperate to disprove it," says Pure Flix CEO and producer Michael Scott. "For those with questions, and others who just want to affirm their faith, Lee Strobel's dramatic on-screen investigation is clearly resonating with people. Seeing this film is the perfect way to celebrate Easter this Sunday."
From Pure Flix and Triple Horse Studios, The Case for Christ stars Mike Vogel (The Help), Erika Christensen (Parenthood), Academy Award-winner Faye Dunaway and Academy Award-nominee Robert Forster. Jonathan M. Gunn (Do You Believe?) directed the film, and the screenplay was written by Brian Bird (When Calls the Heart; Touched by an Angel).
A hard-driving journalist, Strobel was where he expected to be at work: on top. His award-winning investigative reporting had earned him a promotion to legal editor at the Chicago Tribune. But things were going less well at home, where his wife Leslie's newfound faith in Christ flew against everything he believed—or didn't believe—as an avowed atheist.
Utilizing his journalistic and legal training, Strobel begins a quest to debunk the claims of Christianity in order to save his crumbling marriage. Chasing down the biggest story of his career, he comes face-to-face with unexpected results that could change everything he knows to be true.