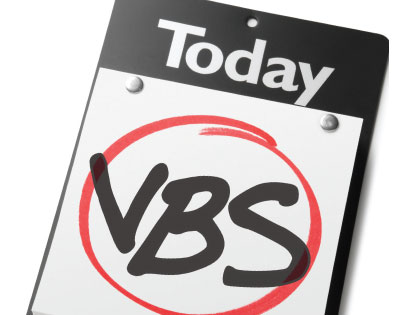 VBS is almost here, so make sure to tie up loose ends before the kids arrive.
TWO TO FOUR WEEKS BEFORE VBS
• Conduct the second VBS planning meeting.
• Receive Supply Request forms and gather supplies.
• Continue promotion efforts.
• Conduct pre-enrollment activities.
• Continue VBS musical practice.
ONE TO TWO WEEKS BEFORE VBS
• Assign pre-registered participants to classes and other age-group
departments.
• Distribute Prayer Guides to those who have committed to pray.
• Distribute supplies.
• Finalize room assignments.
• Conduct department planning meetings.
DAY BEFORE VBS
• Conduct Preparation Day.
• Conduct a VBS kickoff event.
• Decorate and set up all rooms.
DURING VBS
• Register children as they arrive.
• Make needed announcements during the Worship Rally.
• Notify parents about Family Night.
• Communicate each day.
• Oversee all VBS activities.
• Each day make sure all workers are present or that substitutes have been enlisted.
• Assist with first aid and discipline as needed.
• Make sure records are accurate and completed daily.
• Distribute VBS evaluation forms and certificates on the last day.
• Lead and oversee Family Night activities.
—LifeWay.com