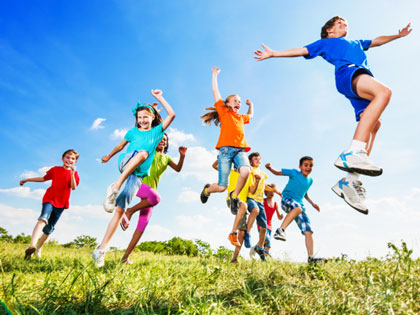 Four ways churches use popular summer program to reach kids, families.
Fun Investment
"One year, we borrowed a large waterslide from a family, which was a tremendous hit! Not only was it fun (it replaced the game-time portion), but it was the best discipline device we've ever had," says Pastor Don Teears of Kitty Hawk Baptist Church in Kitty Hawk, N.C. "All you have to do is tell an unruly kid, 'Do you want to go on the waterslide today? Then you better listen up!' We have since invested in our own 10-foot-tall, 20-foot-long slide that holds two kids at a time. We have a steady attendance of 50 kids and see 15 new kids come to know Christ as their Savior each year, many who are vacationing on the beach."
VBS Community Day
Host a minifestival community day at the end of VBS week to display the accomplishments, songs and crafts the kids have worked on throughout the week. Provide free hot dogs and soda, popcorn and inflatables. Post kids' pictures and crafts throughout the area and host a talent show where kids sing the songs they learned at VBS.
"The turnout of parents, friends and family was just tremendous, and the positive comments received from the community folks were the greatest I have ever experienced," says Rev. Victor Correa of Pentecostal Union Christian Church in Philadelphia. "We are a Hispanic church of 35 with no budget or staff, and we reached over 250 people in the community."
Neighborhood VBS
"Over the years, our VBS attendance has declined, and there is a growing reluctance in the community to participate in activities at the church building," says Pastor Ken Lovelace of First Baptist Church of St. John in St. Louis. "So now we go to them.
"Neighborhood VBS is held Sunday through Tuesday evenings at the home of a member or neighbor willing to host the outreach event. We set up tented areas and canopies to help lessen distractions and provide shade, including spaces for gathering and singing, sharing the Bible story, crafts, snacks and playing games. We rotate several groups of kids through the stations over the course of the evening. Because we may only have one shot at these kids, we lead them through the life of Christ during the three days, highlighting the important events and explaining the way to salvation.
"We also offer a simultaneous basketball tournament for teens and host a cookout for all the kids and their families. Near the end of the meal, we tell them how happy we are that they came, present trophies to the winning basketball teams, share the Gospel and give an opportunity to respond."
Beyond VBS
Together with World Impact, Christian Layman Church in Oakland, Calif., conducts VBS for the children of a nearby, impoverished neighborhood, hosts an annual barbecue with a band, as well as dental and optical clinics, weeklong missions trips and prayer walking.
Find more summer outreach ideas »
Check out more "Try This" idea starters »