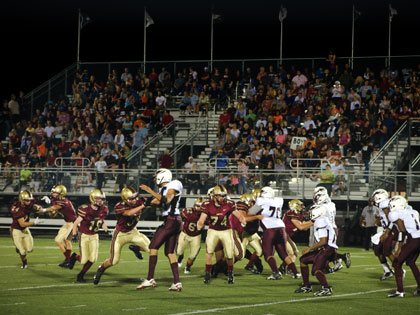 An Oklahoma church "loans" its congregation as fans to the underdog football team
It was like a scene from a movie.
Football players from SeeWorth Academy in Oklahoma City, an alternative charter school that serves inner-city at-risk children, were used to empty stands. But last September, the bleachers were so full people had to be turned away.
SeeWorth was playing the Lincoln Christian Bulldogs, a school run by Tulsa's Church on the Move. To prepare for post-game activities, the coaches from Lincoln asked SeeWorth's personnel about expected crowd attendance. The answer? Ten to 15 people.
At a church staff meeting soon after, someone asked, "What if we reached out to our fan base and filled the visitor stands?"
Coming from a church with an average weekend attendance of more than 9,000, with a 53-13 record over five years and a state title, Lincoln had fans to spare. Church leadership appealed to the congregation.
"We told them if they already support Lincoln or another school, that's great," says Ethan Vanse, the campus pastor for the church's Glenpool location. "But if you're not cheering for somebody, come out and cheer for SeeWorth."
On game night, the 3,200 capacity stands were bursting in a playoff-style atmosphere. Spectators lined the sides cheering while SeeWorth ran through a banner to enter the field. Professional banners hung from the visitor's side, and poster boards throughout the bleachers displayed names and numbers of individual players, who church members had "adopted" for the evening. Teenage boys who normally had no one in attendance could hear fans calling their names.
"It was a special night for those kids," says Vanse, even thouth SeeWorth lost. "And for us, we were reminded how much life is more about giving than receiving."
On the bus ride home, a SeeWorth student, who had been working through legal trouble and an arrest, summed up the impact in a conversation with his coach.
"Coach, that was the best night of my life."