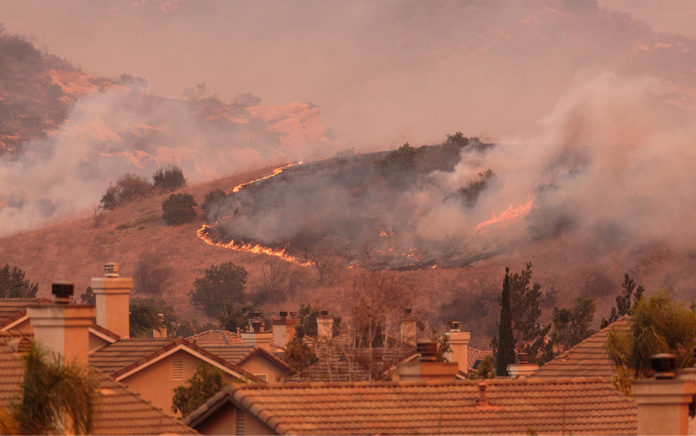 Convoy of Hope trains year-round to respond quickly and provide relief.
2020 has been a year unprecedented in the scale of its disruption, from a global pandemic to boisterous protests. Add to that the fires raging on the West Coast and an armada of named storms threatening the Gulf Coast—a record-tying five as of writing, led by Hurricane Sally, right on the heels of Hurricane Laura's devastation—and you'd be forgiven for wanting to go back to bed and set your alarm for 2021.
Fortunately, there are multiple disaster relief organizations jumping into action to help the people affected by these natural disasters. One of those organizations is Convoy of Hope.
We spoke with Stacy Lamb, senior director of disaster relief for Convoy, from their temporary base of operations in Lake Charles, Louisiana, to get a sense of how they are responding with compassion and practical relief supplies for the hardest-hit regions.
Tell us a little bit about the various disaster relief projects Convoy of Hope is involved in right now?
Currently, we're still in middle of our COVID pandemic response, which we've been at since March 17th. To date we've delivered 60 million pounds of food.
Then there are the wildfires on the West Coast, and we're set up in Lake Charles, Louisiana, offering relief after Hurricane Laura and watching and monitoring Hurricane Sally.
When we arrived in Lake Charles, the power was still out, and has been for longer than a typical storm because the power grid was damaged. Without power, people have limited access to stores and are not able to cook or refrigerate food. That's been a factor for us staying in the area.
Convoy works through local churches and other organizations to deliver food, water, hygiene products, baby supplies, cleaning supplies—and tarps were a huge need after Hurricane Laura. We've distributed thousands of tarps. What we provide varies according to the scenario.
Give us a sense of the infrastructure of Convoy of Hope. How have you been able to respond so quickly to multiple disasters?
Our team trains year-round to prepare to respond. We're completely self-sufficient and self-sustained, and can respond quickly because we know generally what communities need. We roll in with everything: food, shower trailers, generators. All we need is a parking lot.
After Hurricane Laura, we were on-site less than 24 hours after landfall, setting up infrastructure and providing aid. We have a small staff—just 9 staff members—so we rely on a team of pre-trained national volunteers, many of whom are truck drivers. In this case, it took a convoy of 15 trailers and vehicles and 20 staff members and volunteers to get our equipment to ground zero. We're sitting just shy of 2 million pounds of resources in Lake Charles.
On the West Coast, we're working with local churches in six or seven California and Oregon communities, and have a dozen truckloads en route to the affected areas.
How are you are planning to grow your ability to respond to disasters in the coming year?
With continued growth of staffing and infrastructure. Disasters are becoming more and more frequent. This year there have been more disasters than usual. Right now there are five named storms in the Atlantic Basin, tying the record from 1971 for the most at one time, according to the National Hurricane Center.
More and more we are responding to simultaneous disasters.
In a year defined by natural disasters and pandemics, how have you persevered and maintained a sense of hope?
We've been very busy. Our West Coast fire response was our 23rd response of the year. Our record is 24, and it's only September. We're on pace to set a new record.
We make sure that our team is well cared for, rested and rotated in and out of the field so they are ready to go again and serve people.
Do you have an inspiring story you'd like to share about someone who was helped or from a staff member who helped?
In general, just seeing people come through our drive-through distribution line and come looking for something as simple as a tarp. It's just a piece of plastic, but when there's no store, no gas station, and people are just trying to survive, it can be the first point in the recovery process.
Before Hurricane Laura, most of the population heeded the warnings and evacuated. Our first couple of days on the ground were quiet. Then people were coming back to see the damage they had for the first time, clearing out refrigerators, and leaving again in many cases.
Providing a case of water, a tarp, and a grocery bag of food as people were coming back in with nothing at that moment … it's humbling to see that and realize how any of us could be affected by this.
How can church leaders and churches best help disaster relief efforts?
Always, especially from a church standpoint, pray for the people affected and the responding agencies. We covet everyone's prayers. Volunteering is huge. Organizations who are helping need volunteers to do that. And donating dollars, perhaps from a missions budget, to reputable organizations they trust who are doing good work is also helpful.
For more information on Convoy of Hope's response to disasters around the country and the world and to volunteer or donate, go to ConvoyOfHope.org.