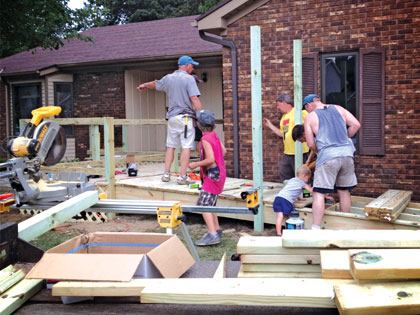 Volunteers give a deserving couple a home renovation.
For 18 years, Ken and Shelly Loose—quadriplegics who met at a rehabilitation center following car accidents in the late 1980s—needed to upgrade their home but didn't have the money to do so.
Then, one day, the pastor at the couple's church recommended them to the Journey of Faith Church in Grand Rapids, Mich., as a deserving family for a home makeover.
"They came in and made things like a Better Homes and Gardens home," says Shelly, who was Ms. Wheelchair Michigan in 2007 and now serves as the president of Ms. Wheelchair America. "Still, two years later, we look around and can't believe what they did for us."
The home makeover is part of an annual outreach project conducted by Journey of Faith volunteers to help people like the Looses. The 75-member church has done five home makeovers since 2008.
"It was inspired by a combination of watching the television show Extreme Makeover: Home Edition and knowing in a big city like Grand Rapids there are a lot of needs," Vicar Matthew Starner says.
"There are a lot of food banks and homeless shelters in Grand Rapids, but there is not so much in terms of actually helping with physical repairs, home repairs and that type of stuff."