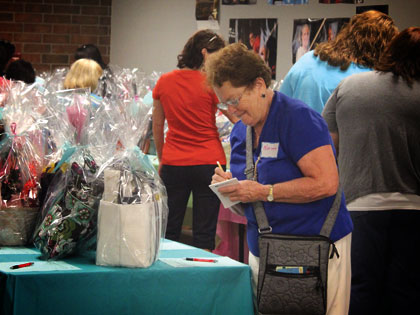 An Indiana church holds a two-part event to serve women and children who've experienced domestic violence.
As a childhood survivor of domestic violence, Paula Flint knows how hope can make the difference between remaining a victim or seeking help and escaping the violence.
Flint, now the women's ministry coordinator at Church on the Rock in Batesville, Ind., helped launch an inaugural event for families reminiscent of her own. In partnership with Safe Passage Inc., a local nonprofit that provides domestic violence intervention and prevention services, the church blessed six of Safe Passage's families. The recipients were treated to a fun day of "Christmas in July" festivities, including a holiday meal prepared by the ministry, presents, a ride on the "Christmas Express," singing and a gospel presentation.
The church raised $2,500 for the event, plus another $2,500 to donate to Safe Passage, through its Handbags for Hope fundraiser. Local businesses and individuals donated 129 purses, handbags, totes and baskets, plus the items to tuck inside, like jewelry, gift certificates, toys and books. The themed bags were then auctioned off during a full-day event at the church in June.
Since 2011, Safe Passage has experienced a 55 percent increase in the number of victims served and a 124 percent increase in the number of children living in shelter.
"We want to spread the good news of God's love and hope, especially to those whom may be at a time in their life that have lost all hope, hence Handbags For Hope," Flint says.