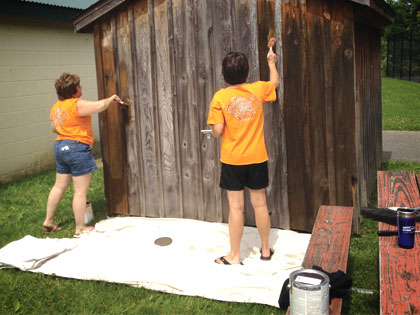 How Cornerstone Church of God in Meadville, Pa., serves its neighbors on a local mission trip
The Church: Cornerstone Church of God
The Challenge: Find an alternative to international missions when plans fall through
One Key Idea: Find ways locally for church members to serve
Mike Fisher, director of Meadville Area Recreation Complex in Pennsylvania, knew the establishment needed work. So when Cornerstone Church of God in Meadville offered to repair the complex as part of its "Love Your Neighbor" mission, Fisher heartily accepted.
"The church took on our picnic shelters, which were in very poor condition," he says. "They're actually about 33 years old and still had the original shingles. They were in desperate need of being stained." The team, which included members of a few other congregations, didn't stop there. Volunteers also painted and landscaped the complex.
Throughout Meadville, 50 volunteers left their mark the week before Father's Day 2013. They repaired a park and parts of the Crawford County Humane Society as well as helped residents reinforce a retaining wall, cut wood and built gardens. Because of the mission, Cornerstone Pastor Jamey Huselton says six people have started attending his 80-member church.
The mission dates back to Haiti's 7.0 magnitude earthquake in 2010. Cornerstone intended to send a team to help, but that plan unraveled. Instead, the congregation ended up serving Meadville locals.
"Many of my volunteers had been on mission trips, but they came back from this one and said, 'This is different,'" Huselton recalls. "Relationships are starting here. Serving right where you live, there's a chance of ongoing relationships."