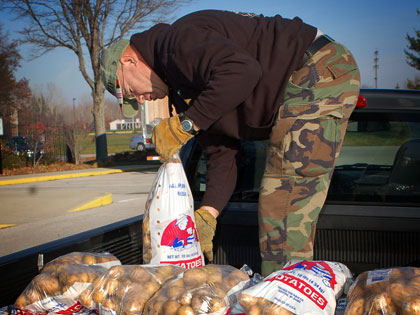 Church distributes 41,000 pounds of potatoes to fight poverty and offer food security to those in need.
Families served by the Interchurch Food Pantry of Johnson County, Ind., and other local residents received fresh produce in the form of donated potatoes last fall thanks to the efforts of Grace United Methodist Church.
The Franklin, Ind., church, which averages 437 weekend worshippers, decided to hold a "potato drop" event after Pastor Andy Kinsey learned about similar events at a United Methodist Church men's conference.
The church raised $4,000 to secure the potatoes, and 40 members of the church's men's ministry helped distribute them.
"We were able to distribute 41,000 pounds of potatoes," Kinsey says.
The church offered potatoes to the food pantry in time for Thanksgiving, when they become dinner staples, says Carol Phipps, the pantry's co-manager.
Church officials told Phipps, "You can have as much as you want," she recalls. "We started at 200 bags of potatoes, and it grew to 400 bags. Grace United was very generous. The clients were thrilled."
The church also offered up potatoes to any local resident who wanted them.
"There were some questions from people who thought there were strings attached," Kinsey says. But he explained, "We are here to help you in this effort to deal with poverty and food security."
Find more ways to serve your community »