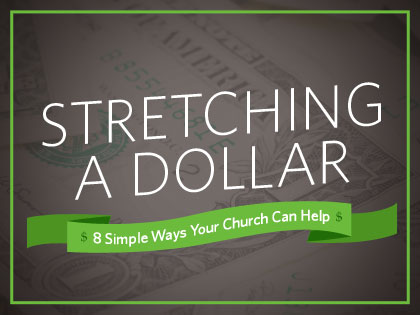 How you can help ease the financial pinch in your community
As the economy continues to sputter, people across the country are tightening their belts and trying to stretch their money a little further. Here are eight ways your church can provide low- or no-cost alternatives to many common expenses:
1. Coffee Connection. Offer free cups of joe to people as they pass your church on their way to work. Have information about your congregation and copies of the New Testament available for them to take as well.
2. Free Breakfast. Start the day off right for people in your community by offering fellowship and a hearty breakfast for free once a week, with no questions asked.
3. Dinner Prep. Recruit volunteers from the congregation to buy groceries and prepare ready-to-bake dinners that can be stored in a freezer at the church. Then, let anyone who could use a little help obtain a meal from the church.
4. Financial advice. Form a task force of bankers, lawyers and other experts in your community, gather information from them about how to handle the economic crisis, and create a helpful brochure that your church can distribute to the community.
5. Hairstyling Help. Enlist the assistance of licensed hairstylists in your congregation to provide free haircuts once a month.
A professional hairdresser, Susan DelRusso of New Monmouth Baptist Church in New Jersey worked with the organization Love in the Name of Christ in 1996 to start the Cuts for Christ outreach, which offers free haircuts every five to six weeks at her church.
"Some people who come are not believers, and I am honored to share Jesus with them in a comfortable and relaxed atmosphere," DelRusso says.
6. Compassionate Compliance. Partner with your local municipal code compliance officers to help people whose homes are in disrepair. Residents—often the elderly, disabled, single parents or others struggling financially—may not be able to maintain their homes, leaving them in violation of local codes. City and County laws may differ, but helping them rectify the problems may help residents avoid costly repairs.
7. Doctor's Orders. As millions of Americans struggle to get by without adequate medical or dental insurance, your congregation can offer hope and health by providing a free clinic. Collaborate with local medical and dental professionals (doctors, nurses, physician's assistants, dentists and dental assistants) in your community to provide free care once or twice a week at your church.
8. Schedule Shake-up. Ease the fuel costs required just to get to church. Adjust your schedule of services, events and ministries to reduce the number of trips people have to make to the church campus, saving gas money and commute time.
Add a comment. Share your ideas. What is your church doing to assist those in need?