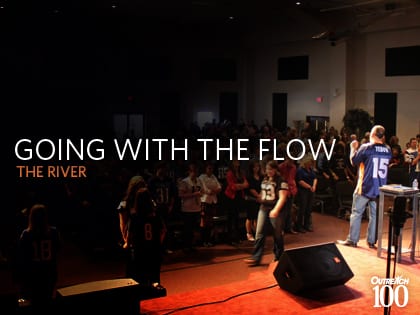 The River Experiences a Comeback by Adapting to the Culture
The River in Nashville, Tenn., is nothing if not a comeback story. In 2003, God worked in the heart of a 60-year-old bishop set to finish his work in Kentucky at the same time a struggling congregation in Nashville faced closing its doors.
When Senior Pastor Jerry Smith—along with his son Barry Smith, now lead pastor—answered God's call to move, his first message, "God Is Up To Something," drew 63 people. Eleven years later and the church of approximately 1,200 is multicultural, multinational, multidenominational, and multi-campus in makeup. From 2011 to 2014, The River tripled in size, prompting the opening of a second campus in nearby Lebanon.
Knowing that God had the ability to move in an oversaturated area with 51 churches in 5 square miles, the Smiths decided the church should reflect the community it serves. The dress is a sharp version of jeans and shirts and the music includes a steel guitar and the occasional country flair.
The River is adamant about meeting people where they are. The younger Smith preached a summer series called, "Movie Messages," based on popular movies like "Despicable Me," "Frozen," "Gravity," and for Father's Day, "Ironman".
Rather than preaching a sermon on the problems of cohabitating, the church came up with a solution by starting ministry to strengthen biblical marriage. Around Valentine's Day, they offered free marriage counseling and weddings for those living together. It cost the church less than $300.
With a goal of connecting to men, The River rid itself of their frou-frou décor, tossed the flowers and painted its stage area black with chrome crosses. "Here's the reason," explains Barry Smith. "Reach the woman in the house and you have a 30 percent chance of getting the whole family. Reach the man in the house and it's almost a 90 percent chance of getting the whole family."
It also targets those ages 0-18 with resources and a dedicated ministry team, realizing that 83 percent of first-time decisions for Christ are made in this age group.
Growth has not come without challenge for The River. To counter issues of limited space, parking, volunteers and finances caused by an influx of new people, the church added a second location and multiple services. Additionally, they offered offsite parking, traded Sunday school for midweek life groups and teach financial responsibility from the pulpit as well as Financial Peace University seminars.
Based on a promise that God gave his dad from John 5, the Barry Smith and his family believe that before it's over, The River will have five locations in Middle Tennessee. "At the end of the day, you can do everything right and still fail if God has not anointed your ministry," says Smith.
THE RIVER
Nashville, Tenn.
Lead Pastor: Barry Smith
Twitter: @barrypsmith7
Website: TheRiverNashville.com
Founded: 1961
Affiliation: Church of God-Cleveland
Locations: 2
Attendance: 1,358
Growth in 2013: +354 (35%)
Fastest Growing: 43